What do ya know, the old Gadfly crystal ball still works: Scripps Networks Interactive Inc., the owner of HGTV and Food Network, is reportedly holding discussions with suitors Discovery Communications Inc. and Viacom Inc. Both programmers need to strengthen their offerings as they go toe-to-toe with larger rivals for placement in skinnier pay-TV packages.
As I wrote just a few weeks ago, the timing is right for Scripps to get bought -- and as far as Discovery and Scripps go, it'd be a match made in TV heaven. A merger would bring more shows targeted toward women under the same roof as Animal Planet, TLC and Discovery's namesake channel. And together they would surely be able to cut some overhead costs, as well as expand Scripps's content more quickly and cheaply to international markets where Discovery already has a platform.
Scripps has long been floated as a takeover target, not least because of its size. The company's $8.7 billion market value is digestible for most suitors (though potentially not for Viacom, which I'll get to later). Beyond that, though, Scripps and Discovery have also suffered faster subscriber losses than many of their peers as larger, more expensive pay-TV packages become less popular and programmers fight to get on internet-delivered TV apps. Their networks don't cost as much to carry as some of their rivals do, but they're still being squeezed out by expensive sports programming and broadcasters. Already, Discovery has been left out of Dish Network Corp.'s Sling TV basic streaming package, while both Discovery and Scripps didn't make it onto Alpahbet Inc.'s YouTube TV either. 
It's for this reason Discovery and even Viacom -- which owns MTV, Comedy Central and Nickelodeon -- are among programmers in talks with distributors about creating services for customers who don't want to pay for sports. Ahead of these potential entertainment-only packages it makes sense that they'd both look to buy Scripps because scale is the name of the game. 
Discovery and Scripps clearly fit together. For one, their audiences are complementary, as this chart shows: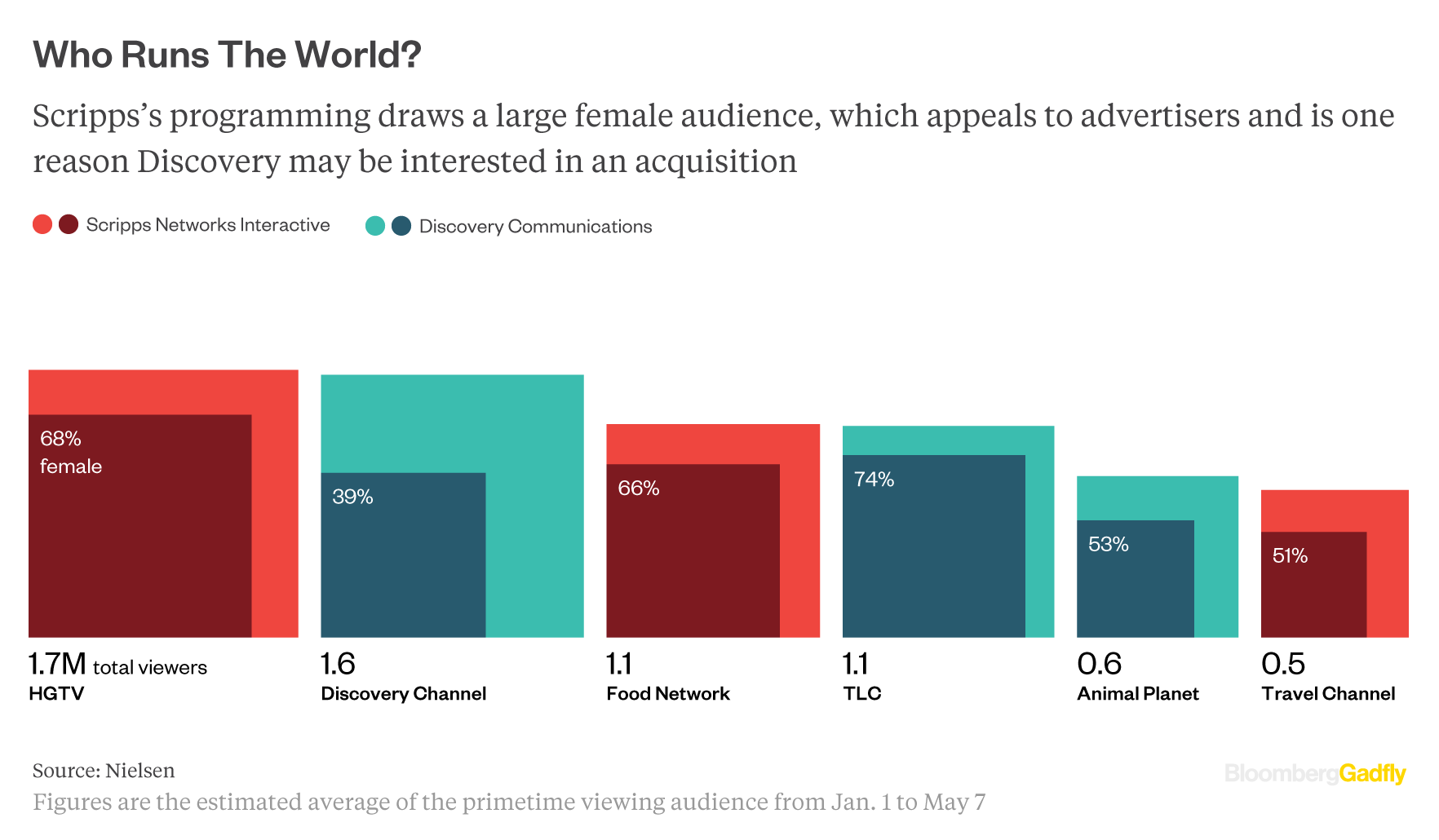 Discovery also has the reach to bring HGTV and Food Network to foreign markets in a way that Scripps hasn't been able to on its own: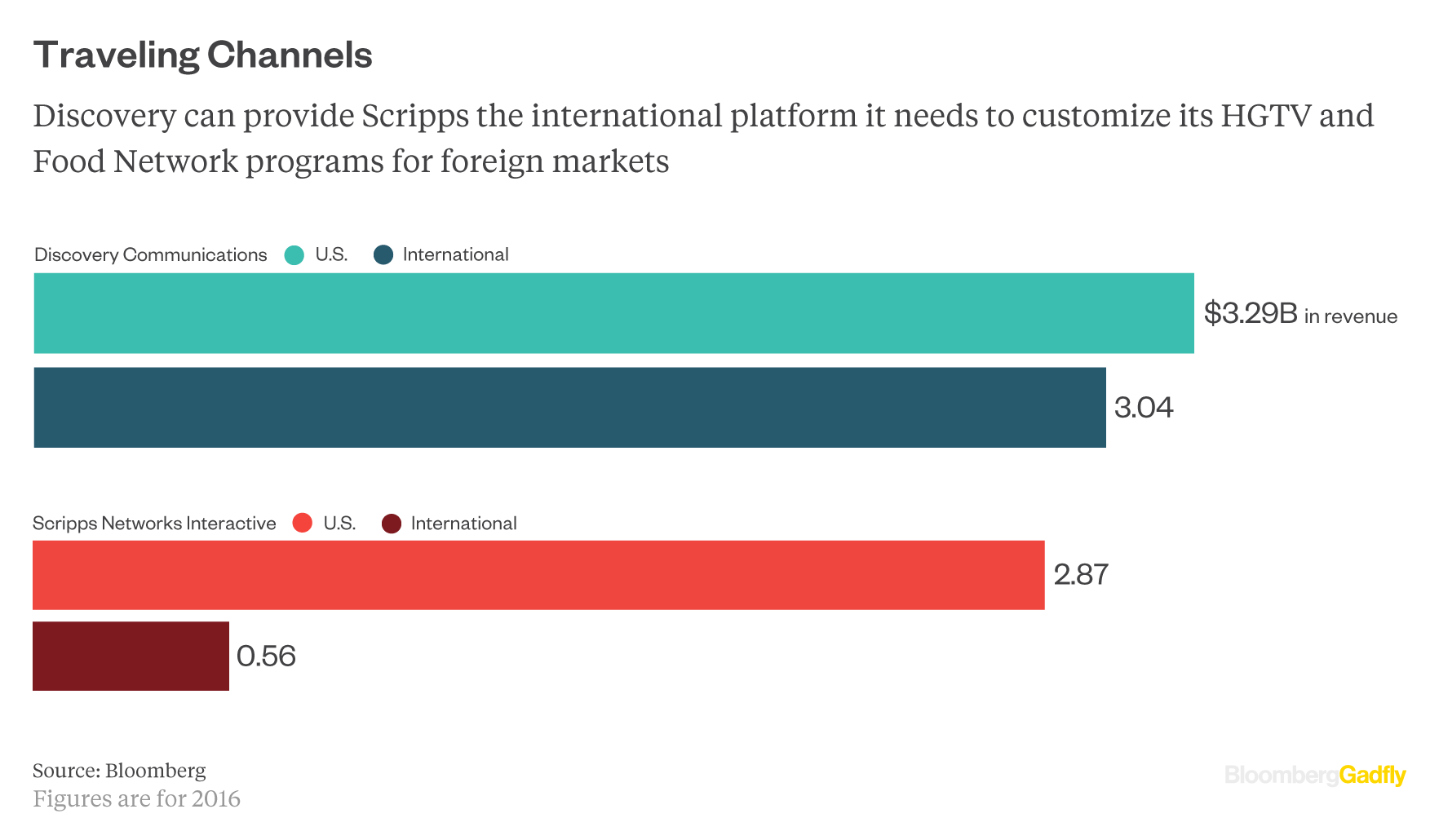 Discovery can also afford the deal. It could pay a 30 percent premium to Scripps's closing price Tuesday -- implying an offer of about $87 a share -- and structure the payment as 40 percent cash and the rest in Discovery stock. With at least $100 million of synergies the deal would be accretive to earnings and lift Discovery's debt to a high yet manageable ratio of 4 times Ebitda. 
Viacom's net leverage is already well above that level, meaning it can't afford to offer much cash at all. The catch is that its stock also isn't attractive currency to offer Scripps shareholders, which include a family trust that controls the company. Viacom shares trade at a valuation that's not just the lowest in its industry, but also the near the bottom of the entire S&P 500 index. 
Buying Scripps would also seemingly contradict Viacom CEO Bob Bakish's new strategy for the beleaguered company. He's been working to reduce debt and narrow Viacom's focus -- and the money it spends -- on six core brands, a strategy investors may not be giving him enough credit for, as I explained earlier this month. To be sure, Viacom could still make the deal accretive in a 50-50 cash-stock transaction with synergies. But while Viacom's stock rose Wednesday morning on the report of its interest in Scripps, it's easy to see how such a large acquisition at such an early stage in the company's hopeful turnaround could easily turn sour. 
In any case, Scripps is bound to get bought and now's the time to do it. 
--Cedric Sam contributed graphics
This column does not necessarily reflect the opinion of Bloomberg LP and its owners.
To contact the editor responsible for this story:
Beth Williams at bewilliams@bloomberg.net