Belt Tightening
Brexit and the Tipping Point
These charts show the widening cracks in Britain's economy.
By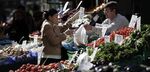 So much for Brexit triggering an immediate economic meltdown.
While the pound has fallen 13 percent against the dollar since Britons voted to leave the European Union in June last year, the country's economy has performed respectably, so far.
A year later, however, signs the U.K. is approaching a tipping point are building. Britons are paring their spending on clothing, footwear, recreation, culture and household goods. While they're still shelling out more on hotels, restaurants and food, the rate of growth in those areas has cooled since last summer.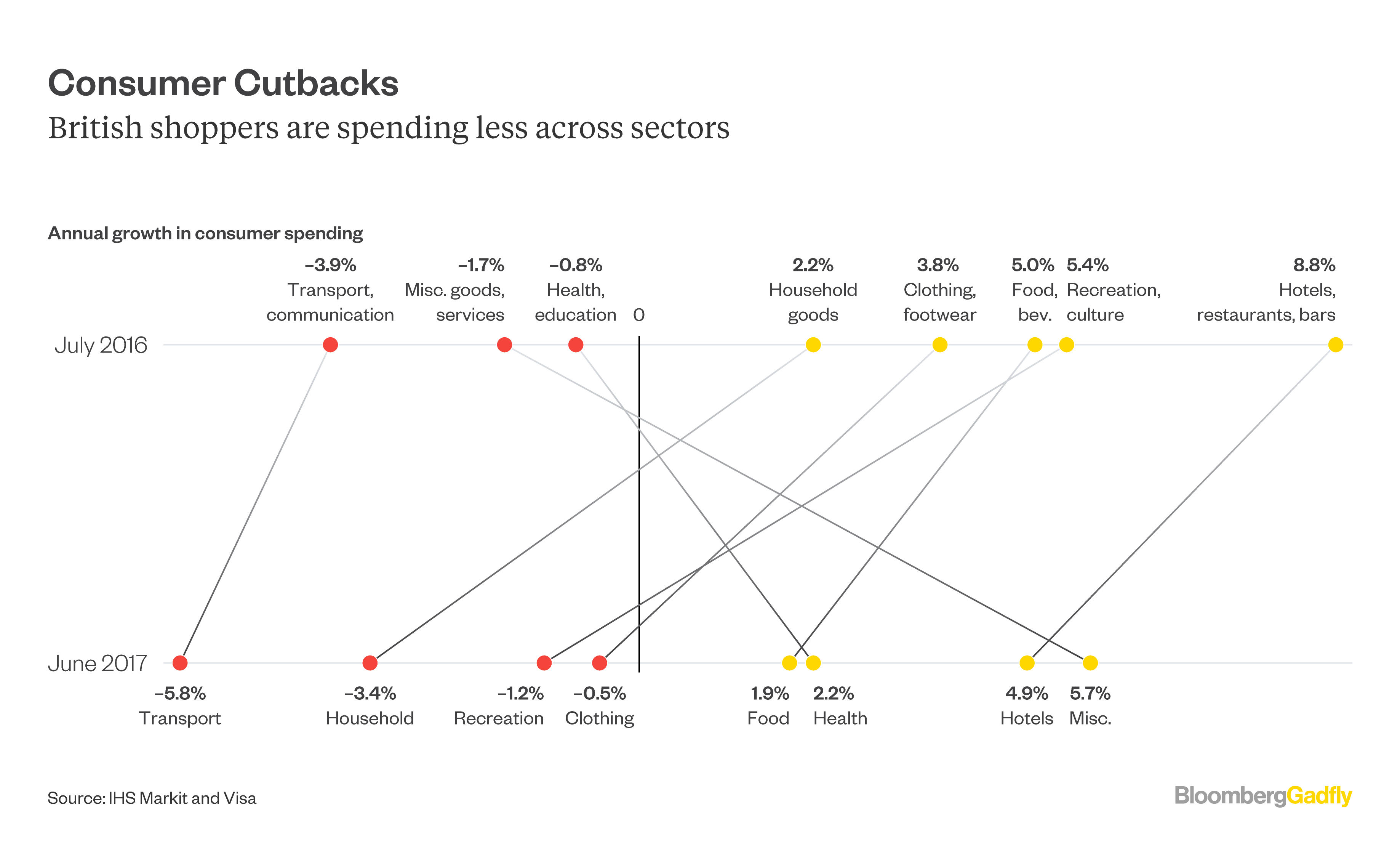 While the economic picture may not be as bad as it was during the financial crisis, consumers are clearly hunkering down as inflation rises and wages stagnate -- spelling pain for retailers, hoteliers and producers of consumer goods. 
Confidence has ebbed to the lowest level since the Brexit vote, according to a survey by GfK, and spending is down. In the second quarter, Visa's U.K. Consumer Spending Index showed expenditure shrinking for the first time since 2013.
When it comes to future purchases of big-ticket items such as furniture or electrical goods, Brits have lost their enthusiasm. That's already hurting sellers of home furnishings and decorations like DFS Furniture Plc or Topps Tiles Plc.
There has already been an impact on the country's driveways. In the three months through June, registrations of new cars fell 10 percent from the year-earlier period.
It's not hard to see why consumers are retrenching: the cost of buying goods is rising faster than people's incomes. 
With real incomes still below their level in 2004, consumers are increasingly putting purchases on plastic.
Credit-card debt expanded by nearly 10 percent in May from a year earlier -- a level that may be unsustainable in the longer term.
It's not just consumers who are aching. For U.K. companies, the cost of making goods is increasing, too. While a cheap pound makes British exports more attractive, imported raw materials become more expensive. Input prices -- what manufacturers pay for materials -- climbed as much as 20 percent in the months following the Brexit vote after three years of shrinking or low growth. Output price inflation -- which measures the price of goods at the factory gate -- remained stable at 3.6 percent in May.
That suggests companies have so far been absorbing much of the cost of rising raw materials, squeezing profit margins. But it's not clear how much longer they can go on doing that. Either margins give, or manufacturers have to start raising prices.
Little wonder, then, that Britain's CFOs are increasingly pessimistic about the future. The number who are less optimistic about their company's prospects is now greater than the number who are more optimistic, according to a survey by Deloitte.
Britain's consumers and companies are looking increasingly fragile and more vulnerable to a bad, Brexit-shaped knock.
To contact the editor responsible for this story:
Edward Evans at eevans3@bloomberg.net
Before it's here, it's on the Bloomberg Terminal.
LEARN MORE