Minority Report
Neil Woodford and Some Bad Karma
Disadvantaging minorities may well come back to haunt these investors.
By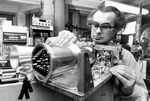 INVESCO LTD
-0.04
At Closing, May 25th
Three big investment managers -- Invesco Asset Management, Lansdowne Partners and Neil Woodford's Woodford Investment Management -- are putting their investor-friendly credentials at risk in a needlessly hostile U.K. takeover battle.
The firms have backed IP Group Plc's rubbish takeover offer for Touchstone Innovations Plc, a rival venture capital firm that's trying to commercialize research from some of the U.K.'s top universities.
When the all-share offer was mooted in May, it was pitched at a 4 percent premium to Touchstone's share price, which was then about the same as net asset value.
Given there was no suitable premium for a change of control, the offer looked pretty unattractive. Hence Touchstone's board opposed it.
Since then, IP's share price has fallen, cutting the value of its offer, and Touchstone on Friday reported a jump in its net asset value. That means IP's offer is now worth 7 percent less than the value of Touchstone's assets.
The takeover suits the big three investors because they own a combined 74 percent of Touchstone and almost 60 percent of the larger bidder. A deal would improve liquidity in the stock -- rather helpful for those with big holdings in Touchstone.
It's a different story for Touchstone's minority shareholders, which include Imperial College London. Taking the offer means they will swap their shares at a discount and be left owning a combined company with a different investment story.
If they snub the offer and the big three deliver on their intention to accept the bid, IP will almost certainly secure backing from enough shareholders to delist Touchstone, leaving the hold-outs with hard-to-trade stock.
The situation is pretty silly. It's not as if the market thinks the combination will create a lot of value, given the sickly reaction of IP's share price.
It might make sense to squish the two groups together, if you believe combining IP, with its stockbroker origins, and Touchstone, with its ivy-covered university origins, will be a productive marriage rather than a culture clash. Even then, it would make sense to do so in a friendly merger with a board drawn equally from each side -- not as a hostile takeover.
This may all be in the immediate interests of the clients of Invesco, Lansdowne and Woodford.
But it's not a good way of making friends in the broader investor community. If any of the big three ever find themselves as disadvantaged minorities, they may well be short of buddies.
To contact the editor responsible for this story:
Edward Evans at eevans3@bloomberg.net
Before it's here, it's on the Bloomberg Terminal.
LEARN MORE