Leverage Boost
BlueCrest Turbocharges After Ditching Clients
Hedge-fund firm lets it fly after shedding pesky constraints.
By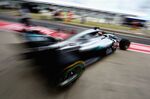 Not so long ago, BlueCrest Capital Management grew into one of the world's biggest hedge-fund firms by promising investors something we've since learned was impossible: solid, steady returns no matter what.
The firm attracted billions of dollars of investor money on which it charged hefty fees. It adopted strict risk-management systems to ensure against big losses, just like big banks. But BlueCrest delivered disappointing returns, so investors fled. So in 2015 the firm's managers decided to give clients their money back and dedicate their time to managing their own capital, of which they now had billions of dollars.
And lo and behold, it turned out that the remaining BlueCrest team generated a 30 percent return in the first six months of 2017, according to a Bloomberg News article by Alastair Marsh. This comes after the firm's ostensible gain of nearly 50 percent for 2016.
These are not audited numbers, but assuming they're accurate, that means that BlueCrest just nailed another home run after ditching its clients.
So how did BlueCrest win so big this year and last, and why couldn't it do it when clients were paying top dollar for just such a performance? While it's hard to know for sure without seeing the firm's books, it's well known that it's using much more leverage and that it has had success trading interest-rate products.
Also, rather than promising all things to all people by trying to capture small aberrations between securities and asset classes, BlueCrest is clearly taking directional bets and doubling down on them. Rather than having compliance officers yelling at traders for losing too much money at any given pop, traders are able to double down on those positions if they expect the market to rebound. Also, returns look much more impressive when they are not being stripped of a 2 percent management fee and a 20 percent performance tax. 
In short, now that BlueCrest managers aren't promising investors the moon and the stars, they're delivering something pretty close to that to themselves.
Even without the details of what BlueCrest did to achieve its terrific results, several conclusions can be drawn:
First, investors were fooling themselves to think any trader could promise safe, reliable returns. They were fearful of another financial crisis, but they wanted (and needed) big gains that were impossible without taking risks.
Second, some BlueCrest managers must have realized at some point that their promise was misguided and nearly impossible to deliver. But perhaps they convinced themselves otherwise as money just rolled in along with fat fees.
And third, while investors have largely been skeptical of using borrowed money to juice returns, leverage can really go a long way toward big gains -- or losses. Either institutions need to adjust their expectations for returns or accept practices with huge potential downsides.
The great irony of all this is that the people who work at BlueCrest don't need money the way that the pensions and endowments that invest in hedge funds do. But they have a crystal clear goal and purpose: to make a ton of money and resuscitate their reputations. That's better than their former clients, who wanted something rather contradictory -- guaranteed good returns without any risk -- and it turns out that contradictory goals get contradictory results.
To contact the editor responsible for this story:
Daniel Niemi at dniemi1@bloomberg.net
Before it's here, it's on the Bloomberg Terminal.
LEARN MORE