No Fun
Want to Actually Buy a Utility? Curb Your Enthusiasm
A revived Great Plains-Westar Energy deal suggests we've hit leverage limits.
By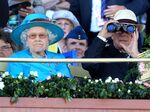 GREAT PLAINS ENERGY INC
+0.08
As of 3:37 PM EDT
WESTAR ENERGY INC
+0.22
As of 3:37 PM EDT
For bankers doing utility deals, regulators are Debbie Downers. With their demands to protect balance sheets from too much debt, customer bills from too many costs, and local jobs from synergies, they get in the way of fun stuff like takeover premiums, earnings accretion and, well, synergies.
Which makes the revived merger between Great Plains Energy Inc. and Westar Energy Inc. especially interesting -- not just in itself but for the wider sector.
The two companies announced Monday they had come up with a new structure for a deal blocked earlier by regulators.
Back in May 2016, Great Plains offered to buy Westar for $8.6 billion in cash and stock. This was punchy, to say the least. Westar had never traded at Great Plains' offer of $60 a share, and the implied multiple of 2017 earnings was a heady 24 times.
What's more, Great Plains' own market capitalization was only $4.5 billion at the time. So it was planning to take on a ton of debt and issue more shares to finance the 85 percent of the bid that was in cash. The resulting company would have had debt of about 6.1 times Ebitda, according to an analysis published in March by CreditSights.
Regulators weren't having it. Unanimously, the spoilsports of Kansas said the bid was too high, resulting in too much leverage. The proposed synergies, meanwhile, weren't enough to offset the risk this presented to customers and employees.
Needless to say, this was not great for Great Plains. Quite apart from the embarrassment and having to buy back the equity and debt it had already issued to finance the deal -- at a premium -- it was on the hook for a $380 million break-up fee.
So the reworked deal dispenses with a premium and the cash portion altogether. It's an all-stock merger of equals, which is about as utility-ish a structure for a utility deal as you can possibly get. Both companies are also committing to a $50 million upfront rebate for customers, keeping operating headquarters open in both Kansas City, Missouri, and Topeka, Kansas, and not firing anyone in relation to the merger for the foreseeable future.
Assuming this assuages regulators' concerns, it would help Great Plains avoid an M&A debacle and lead to a stronger, more diversified business with better earnings growth (fueled partly by buying back a lot of shares).
Westar's shares fell 5 percent on Monday. The disappointment is understandable up to a point.
But it also misses the point. Yes, utility valuations have risen since early last year, so it's natural to ask why Westar isn't just taking its break-up fee and putting itself back on the market. After all, as a medium-sized utility dealing with only one regulator, it should screen pretty well as a potential target for others.
Say the deal had been scrapped altogether. Taking the consensus estimate for Westar's consensus earnings forecast for 2019 of $2.77 and putting a typical regulated utility multiple of 17 times on it gets you to $47 a share. Add in $2.67 for the break-up fee, and you're just scraping $50, roughly where the stock closed on Monday.
But, you might say, it deserves a higher multiple because another bidder might merge. This would ignore the whole reason the deal had to be restructured in the first place: regulators.
Given they had already blocked the higher bid, especially with a big cash element, why would they then wave through another bidder offering a big premium, especially one that couldn't claim the geographical and operating overlap of Great Plains? As it is, Westar's shareholders still get to own more than half of a stronger, more diversified utility at a valuation still 16 percent higher than the undisturbed share price, and with the stock likely to be supported by buybacks for the first couple of years.
The wider lesson here, though, concerns any investors -- or bankers -- speculating on utilities M&A at this point.
This revised deal comes soon after another one that foundered partly because regulators objected to the leverage that came with a high bid, namely NextEra Energy Inc.'s $18.7 billion bid for Oncor Electric Delivery Co. in Texas. Texas regulators worried about the debt that would be layered on top of Oncor, or dividends taken out of it, to help NextEra fund the premium it was paying. Berkshire Hathaway Inc. has since swooped in with a lower bid -- and a record of not taking dividends from its utility businesses -- that could win regulators over (unless Elliott Management has anything to do with it).
Utility deals are, at the best of times, tricky balancing acts between the greed of shareholders and the fear of regulators. The recent outcomes in Kansas and Texas suggest that, after a spate of debt-financed deals at high multiples, the limits of leverage are being reached. That is worth pondering with the entire sector still trading close to its all-time high.
To contact the editor responsible for this story:
Mark Gongloff at mgongloff1@bloomberg.net
Before it's here, it's on the Bloomberg Terminal.
LEARN MORE