Domination Agreement
Hedge Funds and a Prisoner's Dilemma
Forget about another bid if hedge funds scupper Bain and Cinven's offer for Stada again.
By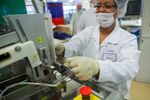 STADA ARZNEIMITTEL AG
+0.08
As of 11:35 AM EDT
Private equity firms and hedge funds are locked in a stand-off over the future of a German drugmaker. A miscalculation would cast a pall over takeover activity in the country for a long time.
Buyout firms Bain Capital and Cinven plan to make a second and sweetened 5.4 billion-euro ($6.2 billion) offer for Stada Arzneimittel AG, a producer of everything from cough medicines to head lice treatments. Their first offer failed last month after attracting support from 66 percent of shareholders, less than the 68 percent they required.
The problem first time round wasn't price. Far from it. It's pretty likely that every shareholder aware of the terms -- a 50 percent premium to Stada's level late last year -- wanted the takeover to happen.
Rather, the low acceptances were the result of hedge fund shareholders withholding some support. They hoped that the votes of other investors would deliver Bain and Cinven enough acceptances for the offer to go ahead, leaving the hedge funds with a big minority holding.
That wouldn't be a bad place for them to be: the hedge funds could hold the buyout firms to ransom for their last few shares if the bidders ever wanted to move to 100 percent -- the so-called "back end trade." What's more, German securities makes life comfortable for minorities by entitling them to generous dividends.
At the same time, many index funds were barred from voting by their passive investment mandates. Some retail investors failed to tender too, perhaps because they were unaware of the situation.
Faced with this, Bain and Cinven have had to lower the acceptance threshold further for a second offer to have any chance of success. The hurdle for the latest will be 63 percent. So if voting behavior goes the way it did in June, the deal happens. Owning fewer shares will make it a littler harder for Bain and Cinven to secure a so-called domination agreement to secure de facto control. Trickier, but not impossible.
But Stada's new management, installed following the failure of the last offer, has done well to exploit the situation and extract 25 euro cents per share more, taking the planned offer to 66.25 euros a piece. It's something, even if it's only cosmetic.
There is every reason for shareholders to accept the new bid: the price is good, and the chances of Bain and Cinven coming back for a third time are remote. Failure could send the shares plummeting. What's more, impending summer holidays may further dampen support from individual investors, putting more of an onus on everyone else to vote.
The risk is that the prisoner's dilemma at the heart of the situation plays out badly. Conscious of the incentives for other investors to back the offer, hedge funds may yet again hold back their votes to play the back end. If that happens, forget about anyone else moving on Stada. And expect other buyers to think twice before pouncing on any German company.
(
Corrects currency of proposed offer in second paragraph.
)
To contact the editor responsible for this story:
Edward Evans at eevans3@bloomberg.net
Before it's here, it's on the Bloomberg Terminal.
LEARN MORE