Warren Buffett's gain is, as so often happens in M&A, someone else's pain. In the case of Berkshire Hathaway Inc.'s acquisition of Texan utility Oncor, that someone could be Elliott Management.
As the largest creditor of Energy Future Intermediate Holdings -- which owns 80 percent of Oncor -- Elliott does benefit from some sort of deal getting done after the entity's purgatory in bankruptcy. While Berkshire's bid is lower than the last one by NextEra Energy Inc., which was blocked by regulators, it should make second-lien debt holders such as Elliott whole.
However, it's a different story for the unsecured bonds in EFIH maturing in 2018. In a court filing made in May, Elliott revealed it had scooped up more than two-thirds of this debt, which overall has a face value of just over $1.5 billion.
In a report published in May, Andy DeVries of CreditSights estimated NextEra's deal would have resulted in a recovery of 78 cents on the dollar for the unsecured bonds. Here's what happened when that deal was rejected:
You can see that Berkshire's offer, which is almost $1 billion lower than NextEra's, has already knocked the bonds back down on Friday by more than 29 percent, to 30 cents on the dollar.
The combination of a lower bid and interest accrued on the more senior debt in the past few months -- which comes out of the unsecured bondholders' share -- knocks a significant chunk off the recovery value.
So Elliott, never the shrinking violet in this sort of situation, can hardly be pleased with Berkshire's terms. Berkshire was rumored to be a bidder for Oncor in earlier rounds last year, and valuations for regulated utility assets have broadly been on an upward trend since then: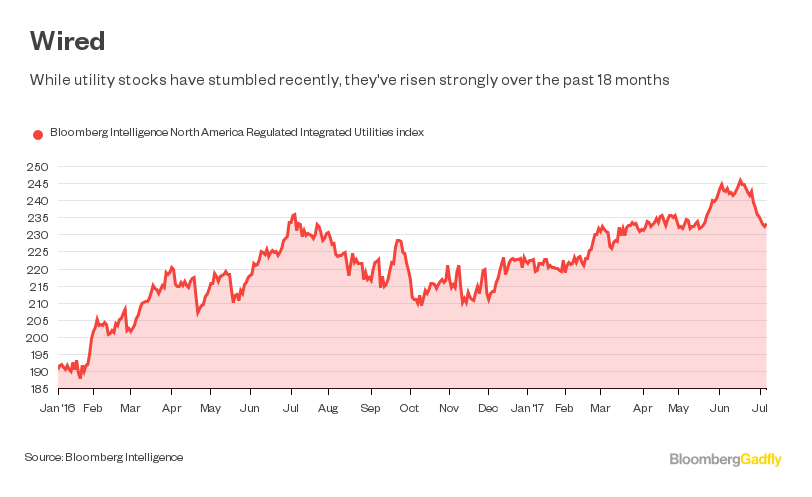 On the other hand, Berkshire's price is almost 27 times trailing earnings and 9.5 times trailing Ebitda. In that respect, it doesn't look too out of whack with the sector, though Oncor's growth prospects look particularly good after years of minimal expansion of the regulated asset base.
Buffett's real edge, however, may be sheer exhaustion. After several years of Oncor being stuck in bankruptcy, regulators and the court will be keen to get a deal done. Berkshire, given its resources, is a particularly appealing prospect for a regulator still smarting from the debacle of the leveraged buyout and subsequent bust of TXU Corp., today's EFIH.
Indeed, in a filing made with regulators in conjunction with its offer, Berkshire assured it would "extinguish all debt" above Oncor in the structure immediately on the deal's conclusion.
However, while that's music to the regulator's ears, "extinguish" is an ominous term for unsecured creditors like Elliott, suggesting Buffett will throw them the smallest of bones. It seems likely those creditors will push for better terms, possibly pressing their case with the judge and/or scouting around for an alternative bidder.
Regarding the latter, though, Oncor's baggage of private-equity disaster and two failed bids is a powerful deterrent. And Berkshire is no doubt counting on that.
This column does not necessarily reflect the opinion of Bloomberg LP and its owners.
To contact the editor responsible for this story:
Mark Gongloff at mgongloff1@bloomberg.net