Same Old Bogeyman
Don't Blame Brussels for RBS's Missing Billions
Brussels isn't responsible for RBS's lost gains on Worldpay.
By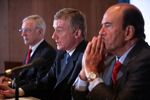 Brussels has been a favorite punchbag for Britain over the years, with the European Union blamed for everything from immigration to bureaucratic red tape. 
Now there's a new gripe: EU state aid rules that forced the bailed-out Royal Bank of Scotland Group Plc to sell Worldpay in 2010 mean that taxpayers won't profit from Vantiv's planned $10 billion takeover of the payments processing operation.
Plenty of politicians appear ready to pound their fists on the table and question how a business sold by RBS for an enterprise value of about 2 billion pounds ($2.5 billion) could now be worth more than four times that figure.
"The British taxpayer has lost out," Conservative lawmaker John Penrose told the Telegraph on Friday. He pointed the finger at EU regulators. His view has been echoed by several other lawmakers.
This kind of thinking is wrong-headed on several levels.
It ignores the state of the seller, for one thing. RBS had been run into the ground through empire-building and reckless risk-taking. A failure was averted only by a colossal taxpayer injection of 45 billion pounds. Since then, RBS has posted nine straight years of losses, totaling 58 billion pounds. The bank is half the size it was in 2008. Worldpay is only one of many assets the lender had to sell to stem its losses and stand a remote chance of paying back the taxpayer.
It also ignores the state of the asset. The idea that Worldpay today is the same as it was when RBS sold it in 2010 is unfair to the private-equity funds that bought it and the management team that they put in place.
Worldpay says it has invested more than 1 billion pounds in its business since becoming independent, with almost half of that going into better technology. It has grown through acquisitions. Freeing Worldpay from RBS has made it much more attractive to buyers.
It also ignores the reality of complying with EU state aid rules. To its credit, RBS didn't simply dump Worldpay -- it sold 80 percent of the unit first through a competitive auction and offloaded the remaining stake three years later. Brussels didn't prevent that.
Other banks that received state help didn't fare too badly. Lloyds Banking Group Plc had to sell assets to comply with EU rules -- yet it has repaid the government in full as of this year. A 2015 study by the European Commission found that restructuring plans have helped bailed-out banks survive and catch up with independent peers in terms of financial health.
If you want to get mad about a great business that shouldn't have been sold by its banking parent, look at Barclays Plc, not RBS. Barclays Global Investors was sold to BlackRock in 2009 for a mix of cash and shares as the British lender sought to raise money during the financial crisis rather than turn to taxpayers. Barclays then sold its BlackRock shares in 2012.
Today, Barclays lacks a champion asset-management brand, BlackRock is the world's biggest money manager and Bob Diamond -- who also reaped a profit from the sale of his own stake in BGI -- is now investing in Africa and small U.K. brokers.
Hunting for the next Worldpay is a wiser course of action than mourning the old one. Ironically, exiting the EU and cutting ties to Brussels will probably make that harder.
To contact the editor responsible for this story:
Edward Evans at eevans3@bloomberg.net
Before it's here, it's on the Bloomberg Terminal.
LEARN MORE