Home Cooking
Campbell Soup Pays Up for ... More Soup
Its Pacific deal is smartly in its comfort zone, but comes at a big cost.
By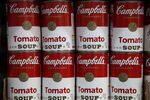 CAMPBELL SOUP CO
+0.26
At Closing, May 25th
Campbell Soup Co. appears to have learned one cardinal rule of M&A: Stick to what you know. Too bad it's forgotten another rule: Don't overpay.
The packaged-food giant announced late Thursday that it's buying organic-soup maker Pacific Foods of Oregon for $700 million. Pacific also makes almond milk, hummus and baked beans, but it's primarily a soup and broth company. And there's nothing Campbell knows better than soup. Pacific's offerings should mesh well with Campbell's own efforts to develop cleaner, healthier products such as Well Yes! simple-ingredient soups and Souplicity organic refrigerated soups.
That should be a relief to Campbell investors; the company's ventures beyond its comfort zone haven't always worked out so well. Its $1.6 billion takeover of Bolthouse Farms in 2012 was meant to power up sales with the kind of fresher, organic offerings customers increasingly want. But that business has been hamstrung by a series of setbacks, from a protein-drink recall to weather-related issues at its carrot farms. This is what sales have done in the Campbell Fresh division that houses Bolthouse products: 
Campbell took a $147 million impairment charge related to Bolthouse's carrot business in its fiscal quarter ended this past January. (It had already taken a $141 million charge on those operations last year.) Campbell is also taking a $65 million charge related to its $231 million purchase of Garden Fresh Gourmet after realizing it would take longer than expected to rapidly expand that company's salsa and hummus business. Turns out packaged-food giants are just like us when it comes to transitioning to a diet of healthier food -- i.e., a work in progress.
Campbell should have an easier time marketing and distributing Pacific's organic soup. Demand seems healthy; fresh soup has been one of the bright spots for Campbell's revenue this year. Pacific CEO and co-founder Chuck Eggert is also staying on as a supplier of key ingredients, which should eliminate some of the supply-chain issues that plagued the Bolthouse deal.
All that being said, though, this is an expensive way to add products that are awfully similar to things Campbell already sells.
The purchase price amounts to 3.2 times Pacific's $218 million in revenue for the year ended May 31. That's a full turn higher than the roughly 2 times sales Campbell paid for both Bolthouse and Garden Fresh. It also tops the 2.7 revenue multiple for its 2013 acquisition of baby-food maker Plum Organics, notes Wells Fargo & Co. analyst John Baumgartner. The median revenue multiple for North American food deals of size in the past five years is less than 1.   
Paying so much for Pacific today raises questions about why Campbell didn't already have the organic soup market cornered. In 2008, it purchased the Wolfgang Puck soup business -- one of the leading organic offerings at the time. It launched the first line of Campbell-branded organic soups in 2015. Pacific was founded in 1987.
Hey, at least it's not another carrot company.
To contact the editor responsible for this story:
Mark Gongloff at mgongloff1@bloomberg.net
Before it's here, it's on the Bloomberg Terminal.
LEARN MORE