Talking Shop
Primark's Lesson for British Retailers
The weather's been warmer, but ABF has also kept a close eye on costs.
By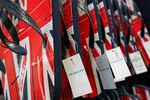 MARKS & SPENCER GROUP PLC
+3.40
At Closing, April 23rd
It's no fun being a clothing retailer right now.
Consumers prefer to spend their money on avocado on toast than a new outfit. For the U.K. high street, there's another pressure: a weak sterling, which makes garments sourced in Asia more expensive.
But Associated British Foods Plc's Primark has offered some much needed comfort on the outlook, driving ABF's shares up as much as 6 percent, and lifting rival retailers.
Primark is a somewhat special case.
First of all, it's cheap, and in an environment where disposable incomes are coming under pressure, discounters have an advantage. It's also chic. Products from ripped denim jeans to inflatable flamingos that sell for 10 pounds ($13) have chimed with consumers.
But some of the factors that helped lift Primark's U.K. same-store sales growth to over 5 percent in the third quarter, from 2 percent in the first half, should benefit other clothing retailers.
Stuart Rose, the former chief executive of Marks & Spencer Group Plc, once quipped that "weather is for wimps." However temperatures can make or break retailers' seasonal sales.
That's the case now more than ever. Shoppers no longer plan their purchases months ahead. Instead, a "see now, buy now" mentality ensues. That means as soon as temperatures soar, consumers reach for off-the-shoulder dresses or dungaree playsuits.
Primark is highly exposed to this trend, because of its cheap items that are somewhat disposable.
But the likes of Next Plc, Marks & Spencer, Asos Plc, Boohoo.com Plc, Hennes & Mauritz AB and Zara owner Inditex SA should also have benefited.
Secondly, Primark's better-than-expected performance isn't just down to stronger sales.
ABF has managed to mitigate about half of the impact from the sterling's slump. With the company choosing not to raise its prices, the remaining currency hit has been absorbed in lower margins.
ABF said that in the first half, Primark's operating-profit margin fell from 11.7 percent to 10 percent year-on-year, reflecting the strength of the U.S. dollar on input costs. The hit from a weak pound was expected to bigger in the second half. But thanks to better deals with suppliers and lower markdowns that helped mitigate the currency pressure, full-year margins will now be in-line with the first six months.
Of course, there could be more pain to come as sterling hedges unwind. But with suppliers keen to fill factories amid the global clothing downturn, retailers could find that there's a bit more scope to negotiate.
British clothing firms have sold off over the past month as worries about the consumer running out of steam have intensified. With inflation rising ahead of wage growth -- and even the possibility of higher interest rates -- those concerns are still warranted.
But in the meantime, apparel retailers can make hay while the sun shines.
To contact the editor responsible for this story:
Katrina Nicholas at knicholas2@bloomberg.net
Before it's here, it's on the Bloomberg Terminal.
LEARN MORE