After years of marching in lockstep, the guardians of monetary stability at the central banks are becoming increasingly divided over their next moves. Traders and investors have reacted by driving benchmark bond yields higher, albeit from very low levels.
While previous episodes of higher yields in recent years have proven short lived, this time -- dare I say it? -- looks different.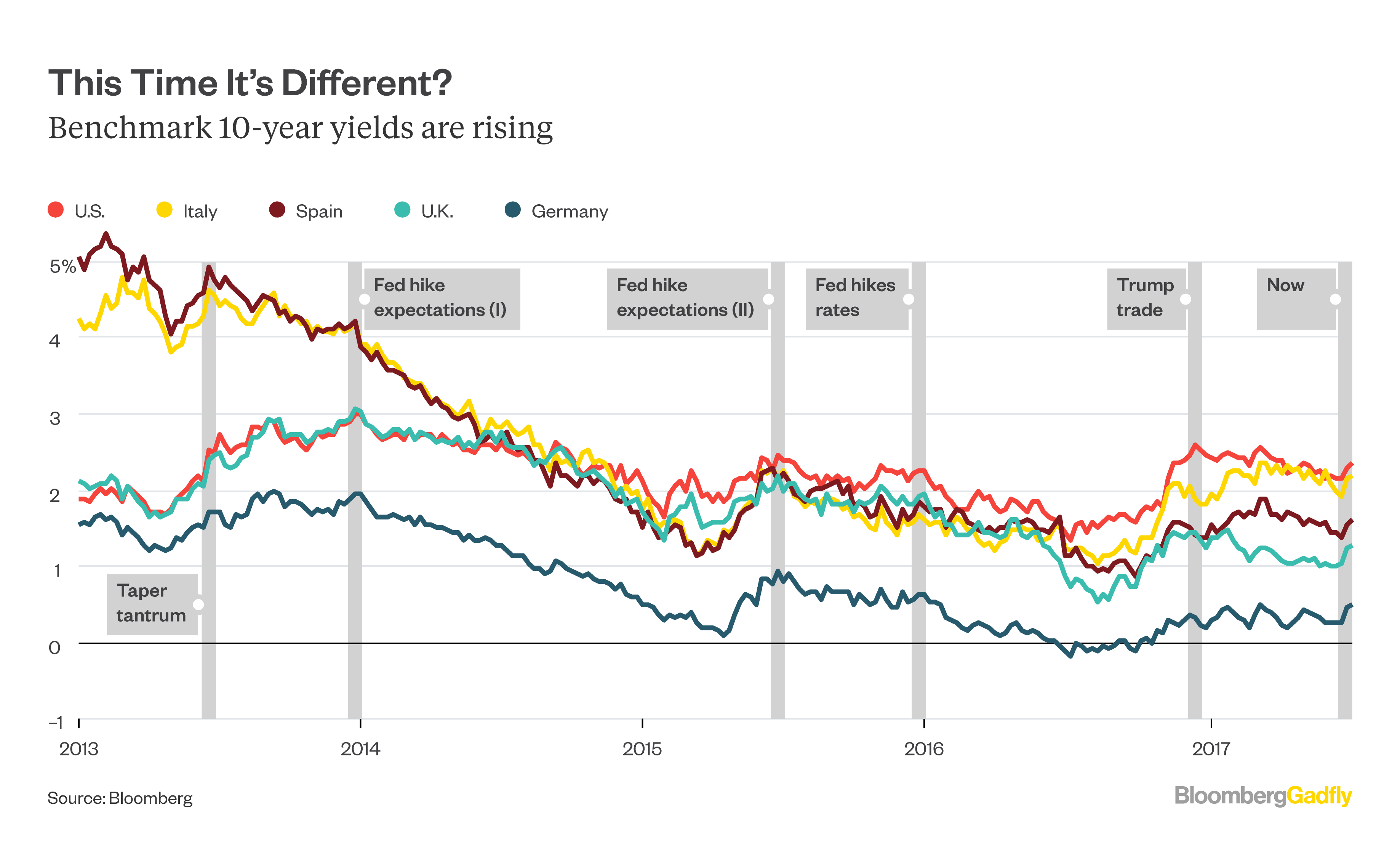 In mid-2013, Treasuries lost $1.5 trillion in value in a fortnight after the Fed suggested it was poised to scale back quantitative easing. Yields resumed their downward march until the end of the year, when U.S. growth figures for the third quarter showed the economy expanding by 4.1 percent, its fastest pace in two years.
That jump in yields also turned out to be a blip, with yields declining until mid-2015 when traders began to anticipate a Fed rate increase; another jump followed at the end of the year when the Fed actually hiked for the first time. The election of Donald Trump as U.S. President last year, stoking expectations for a fiscal boost, prompted another leg-up in yields.
The current increase in benchmark borrowing costs -- Germany's 10-year yield just passed 0.5 percent for the first time since January 2016 -- comes as central banks begin to wrestle with how to unwind the emergency measures introduced in the wake of the financial crisis. It's not proving easy.
Minutes of the Federal Reserve's most recent meeting ended on June 14, released Wednesday, showed "a range of views" about when to start scaling back the central bank's balance sheet by changing its reinvestment policy. Disharmony has broken out at the Bank of England, with some Monetary Policy Committee members leaning toward a rate increase while others adamant that moving too soon would be a mistake.
And the European Central Bank's policy makers, already a fractious bunch, are weighing an improved economic backdrop against a persistent failure to meet their inflation target. While still a long way from actually tightening conditions, the Frankfurt-based institution looks set to at least announce later this year that it will take its foot off the accelerator.
And for some analysts, the mismatch between what the ECB's rules suggest it should be buying in the bond market and what it actually has are already evidence of a stealth tapering of QE.
Accelerating inflation in the U.K. might -- might -- justify tighter monetary policy from the Bank of England if it weren't for the pernicious effects of Brexit on the economic backdrop. Figures this week showed a deteriorating outlook in both services and manufacturing, with orders among services providers increasing at their slowest pace in nine months and average prices charged easing. Wages, meantime, aren't going anywhere.
In the U.S. and the euro zone, however, the inflation outlook has deteriorated in recent months, suggesting the conundrum of improved animal spirits not translating into higher salaries or higher consumer prices is persisting. 
It would take a braver soul than I to call the turn in the bond market. But with central banks seemingly determined to impose so-called normalization on monetary policy, the years of easy money that have contributed to ever-declining yields are drawing to a close.
--Gadfly's Elaine He contributed graphics.
This column does not necessarily reflect the opinion of Bloomberg LP and its owners.
To contact the editor responsible for this story:
Edward Evans at eevans3@bloomberg.net