Willpower
Sainsbury Should Leave Nisa on the Shelf
Getting into food wholesale would be an unwise distraction.
By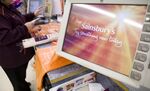 When Tesco Plc launched its Clubcard loyalty scheme in 1995, Lord Sainsbury disparaged it as an electronic version of Green Shield Stamps, a reference to an outdated British promotional program. Yet not too many years after, J Sainsbury Plc itself had joined Nectar, another shopper-loyalty plan.
Fast forward more than a decade, and a similar effort to keep up with the Joneses is being played out between the two archenemies. This time, it's not in the sphere of customer loyalty, but food wholesale.
Tesco in January stunned markets with its 3.3 billion pound ($4.3 billion) bid for cash-and-carry operator Booker Group Plc.
Now, Sainsbury is in talks to acquire Nisa Retail Ltd., a company which like Booker supplies individual shop owners. Nisa also has a contract with McColl's Retail Group Plc, the publicly traded newsagent, and Sainsbury could potentially take on this arrangement itself, or even look to acquire McColl's, the Mail on Sunday reported over the weekend, citing people it didn't identify.
But this is one copycat deal that Sainsbury should leave on the shelf.
The mooted price for Nisa -- 130 million pounds -- is a drop in the bucket for Sainsbury, which has a market capitalization approaching 5.5 billion pounds. And it's true a tie-up would have some merit.
Adding Nisa, which generated about 1.3 billion pounds in sales in the year to April 2017, would boost Sainsbury's buying scale. Tesco will gain 5 billion pounds of revenue from Booker, and so Sainsbury would be bolstering its defenses against a more muscular competitor.
Sainsbury has also made no secret of the fact that it would be interested in a franchise model for its convenience store arm. That would help expand sales without requiring significant capital expenditure.
Finally, Tesco has sparked a shake-up in the wholesale market. Distributor Palmer & Harvey Holdings Plc is up for sale, according to Sky News, and rival suppliers Costcutter Holdings Ltd. and The Spar Group Ltd. may decide they need to take part in the industry consolidation, too.
With the big supermarkets on one side of the dance floor, and the wholesale groups on the other, it's understandable that Sainsbury wants to make sure it gets a desirable partner. But with Nisa, the risks outweigh the benefits.
Sainsbury CEO Mike Coupe was the one who actually kicked off the supermarket spending spree, acquiring the Argos general-merchandise chain last year for more than 1 billion pounds. Despite skepticism about the deal -- including from Gadfly -- Sainsbury seems to be making a pretty good fist of it.
Argos's sales have been better than expected, and Coupe will give a further update when Sainsbury reports first-quarter sales Tuesday.
Sainsbury, which has done a decent job developing its own clothing and home-furnishings offering, has also been quietly revamping Argos's product range. It's taking the retailer's flat-pack furniture and cheap jewelry upmarket in an effort to tempt Sainsbury's more affluent customers away from middle England's favorite shop John Lewis.
Coupe should stick with this strategy, and not be distracted by Nisa.
Those distractions could be manifold. Nisa is owned by its independent shopkeeper members, and they've already rejected bids from Costcutter twice in 2006 and 2009.
As with Tesco's purchase of Booker, there might also be some competition concerns, particularly if Sainsbury's interest was to extend beyond Nisa to McColl's. That's another headache Coupe could do without.
Britain's supermarkets are all scrambling to find new avenues of growth amid the twin threats from Germany's no-frills operators and Amazon.com Inc. But Sainsbury trying to break into the wholesale food market looks more like a dead end than a winning strategy.
To contact the editor responsible for this story:
Katrina Nicholas at knicholas2@bloomberg.net
Before it's here, it's on the Bloomberg Terminal.
LEARN MORE