Look Down
Big Energy Just LOVES the Little Guy
In a world of shrinking demand growth, going downstream looks more appealing.
By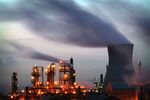 ROYAL DUTCH SHELL PLC-A SHS
-9.00
At Closing, May 22nd
APPLE INC
-0.47
At Closing, May 22nd
Andrew Vesey, CEO of Australian utility AGL Resources Ltd., made an interesting comment at a recent Bloomberg New Energy Finance summit in New York:
The customers are finally becoming part of the energy value chain.
There are signs of this cropping up all over. Royal Dutch Shell Plc has just launched a service, TapUp, that lets you order a refill for your car at home rather than drive to a gas station. Rival BP Plc earlier this month hosted an investor day dedicated entirely to the downstream part of its business -- that is, things like chemicals and retail that are closer to the customer -- for the first time in six years.
Meanwhile, Enel SpA, the Italian utility, just announced a $282 million deal to buy EnerNOC Inc., a Boston-based company that helps large energy users manage their demand. This follows similar acquisitions by other utilities such as Southern Co. and Edison International in the past couple of years and the launch of non-energy related customer-service businesses such as Centrica Plc's "Local Heroes" handyman platform.
The most interesting aspect of Vesey's comment, though, is that customers might only just be finding their place in the modern world's indispensable industry now, in 2017. Imagine the same being said for the technology or health-care sectors.
But energy is different. Or, rather, it was.
Oil majors and utilities have long been obsessed with supply. Customers, after all, are slaves to the gas pump and the light switch. This isn't to say they were ignored altogether. But one look at the financials of, say, one big integrated oil company quickly identifies the center of gravity in the business:
Oil majors spent much of the past couple of decades selling refineries and retail sites (helping to strengthen the independent refining and marketing industry in the process) and redeployed the funds into upstream resources, no matter how exotic (read: high-cost.)
On the power side, while utilities clearly have a direct, hardwired link to the customer, frequently it isn't your standard relationship. In the U.S., regulated monopolies limit customer choice except in certain states (such as Texas); the key thing is avoiding blackouts and price spikes rather than winning hearts and minds. In a survey conducted in 2014 by the SmartGrid Consumer Collective -- an industry and consumer association -- while four out of five respondents said they were satisfied with their utility, only 58 percent said they believed their utility acted in consumers' best interest.
As far back as 1960, Theodore Levitt's seminal paper Marketing Myopia took aim at the oil industry's complacency:
Not since John D. Rockefeller sent free kerosene lamps to China has the oil industry done anything really outstanding to create a demand for its product.
He was similarly scathing of electric utilities "enthroned on a pedestal of invincible growth".
Even without such baggage, it is hard to turn a commodity like energy into a consumer product at the best of times. And yet Big Energy must try, because that old assumption of ever-increasing demand and lack of competition that Levitt warned against is being called into question.
U.S. oil and electricity demand has clearly flattened over the past decade (although gas has made big strides, largely at coal's expense):
As consultant Harry Benham discusses in this recent blog post, though, growth in primary energy consumption for the world as a whole has slowed, even amid relatively low prices and reasonable economic growth:
This trend toward lower growth has a profound effect on the economics of Big Energy because, whether an oil major or a utility, they are making investment decisions on projects with lifespans typically measured in decades, and which must support rising dividend payments.
Investing in raw production capacity in the traditional form of giant oil fields or power plants makes less sense in this environment. Hence, for example, the exit from oil sands by several of the international majors and, at least in developed markets, the paucity of new coal-fired and nuclear power plants (unless there's some sort of government backing).
Exacerbating this is the breakdown of the traditional walls between different energy markets.
The clearest example is road transportation, which currently accounts for about half of global oil demand and, in BP's latest long-term projection, almost half of demand growth out to 2035.
Besides the impact of more fuel-efficient regular vehicles, there is the growing threat from electric and hybrid vehicles, which have the potential to break oil's grip on its top market along the lines of what Levitt predicted 57 years ago (he might have been amused to think oil companies might actually end up competing with utilities to power cars). While we may yet see further cyclical upswings in oil prices, this is a structural challenge that will only grow over time.
No wonder Shell is offering to run the fuel over to you. But no wonder all the oil majors are emphasizing adding value to their barrels at points closer to the customer, given there's less margin at the wellhead.
Exxon -- run these days, like Shell, by a man mostly steeped in the downstream business -- emphasized during its investor day in March how it could reap higher returns from low-priced U.S. oil and gas by feeding it into the company's own refineries and petrochemical plants. And at BP's recent presentation, it laid out ambitious targets for its downstream business, such as boosting its pre-tax earnings by $3.4 billion, or almost 60 percent, by 2021. You can see why:
Similarly, the business of simply producing and transmitting ever more raw electrons is not as solid as it once was.
That's one reason why utilities have been shedding their "upstream" unregulated power plants. It is also why merchant generation companies such as Dynegy Inc. rely more on merger speculation to keep their stock price reasonably buoyant these days rather than anything more fundamental. On that point, it is worth noting that the company cited most often as a potential suitor for Dynegy, Vistra Energy Corp., derives a lot of its competitive strength from a solid retail electricity business in Texas.
Utilities have in part retreated to the apparent safety of their regulated assets, such as transmission and distribution networks. And, like the oil majors, some have embraced gas where they can, paying eye-watering multiples for acquisitions in some cases.
Regulated returns offer some protection, particularly in less competitive markets such as the southeastern U.S. Again, though, for a business valued on its long-term dividend-paying potential, the trend is not its friend.
Besides the lack of growth in electricity demand in both the U.S. and the European Union, customers have a growing set of options beyond their traditional utility supplier. Rooftop panels on households are one example of this, but the bigger concern is on the commercial and industrial side -- which, in the U.S., accounts for more than half of electricity suppliers' revenue:
Corporations are looking beyond their usual suppliers for a variety of reasons. One is to manage costs. Falling prices for solar and wind energy, as well as the ability to expand these power sources in a modular way, provide a good hedge against rising utility bills. These also help companies keen to burnish their green credentials. Most intriguingly, big power users such as Apple Inc. have registered in some markets such as California as utilities themselves, so they can sell excess power from the sources they've commissioned.
This expansion, in both consumer preferences and options for their power, as well as the shrinking growth opportunity, are why utilities are experimenting with different customer offerings in developed markets. If the old business was to simply build the biggest hosepipe of electrons, the one taking shape now involves helping customers manage their demand -- see Enel's EnerNOC deal -- optimize their sources of supply, and, if possible, sell them other services. As this (very simplified) chart 1 of inputs and outputs to America's electricity system shows, there is clearly a big opportunity to do things differently if possible:
Even in emerging markets, where overall demand will keep growing, considerations around pollution (including carbon dioxide), capital availability and energy security mean equipment and services to boost efficiency and manage demand will be valuable alternatives to simply building more power plants and wires.
Similar to the oil majors, this pivot toward adding more value at the customer end rather than relying on a tight grip on primary sources of supply, while necessary, isn't going to be easy for utilities. Even for relative leaders in this, such as Centrica, retailing energy still generates two to four times as much revenue as services do, according to Bloomberg New Energy Finance.
And, again similar to what the oil business is experiencing in terms of shale supply and transportation markets, new entrants to the power game offer things like software, sensors, storage and services where traditional utilities haven't necessarily developed a competitive edge. That is partly because these things compete with the incumbent business model -- which, for now, remains highly profitable, blunting the instinct for change.
Like any other consumer industry, though -- cameras, vehicles, telephones, computers, clothing, books, groceries -- energy's 20th-century model is officially up for grabs. The industry's embrace of all things downstream is the surest sign of it.
This chart is adapted from the Lawrence Livermore National Laboratory's fascinating sankey chart of U.S. energy consumption in 2016 (available here). Take a look and you'll see also how much energy is wasted in the internal combustion engine -- which also helps explain why electric drive-trains are likely to keep gaining ground.
To contact the editor responsible for this story:
Mark Gongloff at mgongloff1@bloomberg.net
Before it's here, it's on the Bloomberg Terminal.
LEARN MORE