Creative Half-a-Loafing
Walgreens's Compromise Gives It a Chance to Be Bold
A smaller Rite Aid deal lets it focus on diversifying.
By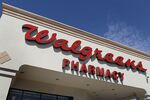 RITE AID CORP
-0.03
At Closing, April 25th
WALGREENS BOOTS ALLIANCE INC
+0.95
At Closing, April 25th
The year-plus-long saga of Walgreens Boots Alliance Inc.'s quest to buy Rite Aid Corp. has ended with a half-loaf of a compromise. But that has set the table for more interesting deals for Walgreens.
Likely expecting the Federal Trade Commission to reject its $7.4 billion offer for most of Rite Aid -- apart from 865 stores that would have gone to Fred's Inc. -- Walgreens announced Thursday it will instead spend $5.3 billion on 2,186 Rite Aid stores. That's a pretty far cry from Walgreens's original plan, which was to buy the whole company for $14 billion.
But there's plenty of silver lining here. Walgreens still gets a decent chunk of what it wanted. And looking to the future, the firm now has more financial and strategic flexibility to pursue other, possibly more interesting, deals. 
Walgreens still looks likely to vault ahead of CVS in U.S. store numbers. But its lead will be less substantial than it would have been under the prior terms of the deal.
And Walgreens still lags CVS in extending its business to other parts of the health-care supply chain in the U.S. -- most notably pharmacy benefit management. CVS is one the largest PBMs in the U.S. and has spent a decade building that business after buying Caremark in 2007. CVS' PBM arm provides a third of its operating income, and helps drive sales to its retail pharmacy -- CVS gets a larger percentage of its revenue from more-profitable pharmacy sales than Walgreens.
It's a different business, but UnitedHealth Group Inc. has also extended its reach throughout health care with a series of acquisitions outside its core insurance business, including a major PBM. Rite Aid would have at least given Walgreens a small foothold in the PBM market; the smaller pharmacy spent $2 billion on Envision Pharmaceutical Services Inc. in 2015.  Now it won't even have that. 
It seems inevitable that Walgreens must branch out into other businesses in the U.S., too. For one thing, CEO Stefano Pessina has publicly suggested it may happen. And there aren't many more drugstores it can buy without provoking the FTC's wrath; even the smaller Rite Aid deal isn't a regulatory slam dunk, according to Bloomberg Intelligence. And there's no other chain out there with Rite Aid's retail scale.
A smaller deal leaves Walgreens with room for more adventurous purchases, both strategically -- it now just has to absorb a smaller and more regionally focused group of Rite Aid stores -- and financially. The price tag is much smaller than its original offer, even with a $325 million termination fee, and the company won't have to take on more debt to get it done.
PBMs and other pharmacy-related businesses make sense as possible targets. So far Walgreens has focused on partnerships rather than purchases in such areas, but that could easily change. 
Some frequently mentioned targets are PBM Express Scripts Holding Co. and drug wholesaler AmerisourceBergen Corp. (of which Walgreens is the largest shareholder). These deals would be a lot more expensive than even buying all of Rite Aid. But Pessina is clearly comfortable with making a big splash. And Express Scripts has gotten a lot cheaper in the past year.
Walgreens has a distribution business in Europe, meaning it may have enough familiarity to absorb such companies as McKesson Corp., Cardinal Health Inc. or Amerisource.
Compromise may be frustrating for Walgreens and its shareholders right now. But even bolder moves could be coming.
To contact the editor responsible for this story:
Mark Gongloff at mgongloff1@bloomberg.net
Before it's here, it's on the Bloomberg Terminal.
LEARN MORE