Getting Foxed?
Sky's Relief Rally Has Gone Far Enough
Big uncertainties remain over his pursuit of full ownership of the broadcaster.
By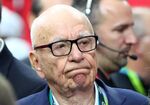 Sky Plc investors are relieved. U.K. watchdog Ofcom on Thursday decided that the controversies surrounding Rupert Murdoch were no bar to 21st Century Fox, the tycoon's U.S. media group, taking full control of the British satellite broadcaster.
The real problem was the risk of Murdoch having too much influence in the sector. Ofcom said that could justify the deal receiving a thorough review by Britain's top anti-trust supervisor. For shareholders, this was a better result than seeing the deal killed outright.
Taking the two judgments together, the market concluded the chances of Fox eventually succeeding in buying Sky have risen. Shares in Sky ended Thursday 3.3 percent higher at 988 pence, even as the FTSE 100 declined. Investors reckon it's now more likely they will receive the 1,075 pence per share that Fox is offering for the 61 percent of Sky it doesn't own already. What's more, Sky investors could be in line to receive a 10 pence dividend that Fox promised should the approval process drag into 2018.
Then there's the prospect that shareholders might be able to squeeze more from Fox. Most analysts have a price target on the stock that matches the offer but a handful are in the range of 1,100 pence to 1,320 pence, according to Bloomberg data.
The difficulty is that the path to completion is still highly uncertain. At issue is maintaining the independence of Sky's news operation should Fox take control. To address this, Fox has proposed certain commitments, including a new editorial board for Sky News that would have a majority of independent directors. Ofcom said the proposals "mitigated" its public interest concerns. But that wasn't good enough for the culture secretary, Karen Bradley.
The snag for Fox is that Ofcom has also poured cold water on the obvious alternative -- carving out Sky News into a fully separate company. As a loss-making venture, this just wouldn't be commercially viable and could shrink. Indeed, Ofcom's worries about media plurality are potentially even greater under this scenario.
At this stage, finding a way forward will not be easy. One idea would be to toughen further the proposed governance arrangements of Sky News to give more confidence around its independence. But the reality is that so-called behavioral remedies -- promises to be good -- aren't popular with authorities, period. Another possibility would be to find a new owner willing to fund a barely commercial news operation: tricky in this day and age.
That leaves a half-way house: carving out Sky News as an independent company but with a funding guarantee provided by Fox. Such a plan might just address the plurality concerns -- although it would be vulnerable to the charge that the organisation, while independent, still relied on the Murdochs for survival.
The other uncertainty is politics. The U.K. government is weak. A fresh election later this year cannot be ruled out. That is a cloud over a transaction that has been a political football from the get-go.
It's possible that a full competition review is yet avoided, or concludes that the emergence of social media has changed everything and the deal can proceed. Perhaps. Right now, Murdoch's dream of fully owning Sky is still not much more than that.
(
The Sky share price in a previous version of this column has been updated.
)
To contact the editor responsible for this story:
Jennifer Ryan at jryan13@bloomberg.net
Before it's here, it's on the Bloomberg Terminal.
LEARN MORE