Don't Blink
The Short Life of the Oil Short Squeeze
U.S. E&P firms will jump on a price increase to sell more oil.
By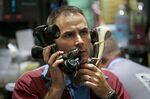 Oil traders are warning that the oil market is so bad it might get good really quickly.
My colleagues at Bloomberg News reported on Wednesday that sentiment is so bearish -- as expressed via positions in Brent crude futures contracts -- that a short-squeeze could materialize at any moment.
To benefit from it, though, you would need to be very agile -- because U.S. exploration and production companies will jump on any increase to sell their own oil.
I wrote here about how shale producers use the futures market to lock in prices on expected production in order to keep the cash-thirsty fracking machine going. After mostly enduring a dreadful late 2015 and early 2016, E&P companies grabbed the opportunity presented by the announcement of supply cuts by OPEC and others in late November.
You can see their rush to hedge in the net short position of swap dealers in Nymex crude oil futures and options (a proxy measure because E&P companies generally use swaps dealers to establish their hedges:
You can also see, however, that hedging activity slowed significantly in the first half of this year as faith in the power of OPEC's cuts has waned -- in part because of the extra shale output those fourth-quarter hedges teed up. This sets up a conundrum for the oil market in the second half.
Using data provided by Matt Hagerty and Peter Pulikkan of Bloomberg Intelligence, a sample of 31 E&P companies had 54 percent of their anticipated 2017 oil production hedged at an average price of just over $50 a barrel. That's a pretty solid position: The average implied price for West Texas Intermediate crude oil based on actual prices so far this year and current futures contracts is about $48.
Things are different for 2018, which now looms large for E&P companies, their banks and investors.
The average price for hedges on 2018 oil production is actually higher for the sample, at about $51.50 a barrel. The problem is that only 15 percent of that output was hedged at the end of the first quarter, according to Bloomberg Intelligence's data. That's a little lower than at the end of the first quarter of last year, when about a fifth of anticipated 2017 production was hedged.
Looking at the vanguard of the shale producers -- namely, those with high exposure to the prolific Permian basin -- the picture is better than for the whole group. In particular, this smaller sample of 11 companies quickly took advantage of the OPEC relief rally late last year. But the gap for 2018 is still very much apparent:
Hedging more output looks unattractive at current futures prices for 2018, which a week ago hit their lowest level since April 2016:
Within a month or so, E&P companies will report second-quarter results and updates on their hedges. If not much has changed since the first quarter, it would suggest they hope for some sort of intervention in the market along the lines of last year's miracle in Vienna.
Could OPEC really repeat the trick, though? Having seen the initial euphoria wear off within months, Saudi Arabia would have to cut more deeply and persuade others, including Russia, to do the same -- which isn't easy. And as I wrote here, they have to be careful about pushing prices too much higher anyway, lest they provide the very impetus shale producers crave. Plus, potential wildcards such as Venezuela, where things took a notably sinister turn on Tuesday, could yet provide a jolt to prices regardless of any supply agreement.
Instead, Saudi Arabia might want to wait and see if nerves are cracking in the shale patch and quarterly results calls are accompanied by a tempering of growth projections. If, on the other hand, hedging has increased and shale drillers reaffirm growth targets, then it will be a very bearish sign, at least immediately, as it suggests no let-up in fracking despite the lack of a clear catalyst for higher prices.
One thing is clear: Whatever the spark for a jump in prices, America's oil companies would rush to take advantage of it -- and thereby contain it.
To contact the editor responsible for this story:
Mark Gongloff at mgongloff1@bloomberg.net
Before it's here, it's on the Bloomberg Terminal.
LEARN MORE