Healthy Price
Paying a Premium for Nuts & Seeds
Holland & Barrett was never going to fetch a bargain price.
By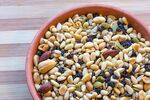 It's easy to think of reasons not to offer a high price for a predominantly U.K. retailer with a network of old-fashioned shops. But even in sectors regarded as challenged it's possible to establish a lucrative position. That helps explain why Russian billionaire Mikhail Fridman is willing to pay buyout firm Carlyle 1.8 billion pounds ($2.3 billion) for the prestigious Holland & Barrett health food and supplements chain.
Holland & Barrett is the British jewel in the crown of Carlyle-owned Nature's Bounty Co., which also includes health foods sold in the U.S. Forget the noise about the troubles with U.K. retail for a moment. The company has an authoritative brand in its home market, and that enables it to charge premium prices. Ebitda margins are in the mid twenties, and sales last year were at least 610 million pounds. Buoyed by the expansion of the "wellness" market, H&B is expanding into Scandinavia and beyond.
L1 Retail, part of Fridman's LetterOne investment vehicle, is paying an estimated 12 times Ebitda for Holland & Barrett -- high for store-based retail. Assume operating profits are around 130 million pounds and the tax rate is around 20 percent, the return on invested capital would be only about 6 percent from the get-go. But factor in sales growth through overseas expansion, then add some leverage and it's not hard to see how the deal could stack up nicely on a multi-year view.
Naysayers can argue that the future of retail is online, and high profitability is a red flag to competitors to attack Holland & Barrett's position. The likes of pharmacy groups Walgreens Boots Alliance Inc. and A.S. Watson clearly didn't see value in outbidding Fridman at the price being paid.
Even so, Amazon.com Inc.'s offer for Whole Foods Market Inc. in the U.S. is a reminder that physical stores still have a role in segments of retail. Plus, it's hard to build a trusted brand in this area quickly. The decision by Tesco Plc, the U.K.'s largest grocer, to trial Holland & Barrett concessions in its own stores suggests it's a brand that competitors would rather partner with than take on.
As for Carlyle, the deal isn't quite as good as the full price suggests. The firm would surely have preferred to sell the whole operation in one go, and still has to find a buyer for the U.S. business. Getting a heated auction going for that could be tricky as it's not a particularly special business, while Holland & Barrett is. Meanwhile, it will face a big capital gains bill on the sale, which takes some of the shine off the price tag.
Fridman needs to execute Holland & Barrett's expansion flawlessly to make this pay: he's assembled a wise team of financial and retail experience around him, including Michael Casey, a top banker who formerly worked at Carlyle's advisers, Goldman Sachs Group Inc. Fridman hasn't got a bargain. But for decent companies, you never do.
--With assistance from Gadfly's Andrea Felsted in London. 
To contact the author of this story:
Chris Hughes in London at chughes89@bloomberg.net
To contact the editor responsible for this story:
Jennifer Ryan at jryan13@bloomberg.net
Before it's here, it's on the Bloomberg Terminal.
LEARN MORE