Pour the Prosecco
A Very Italian Bailout
If the economy goes bad, Italy's 17 billion euros may seem steep.
By and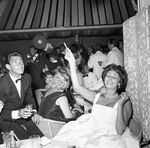 INTESA SANPAOLO
+0.03
At Closing, April 23rd
After several false starts, fudges and failed attempts to fix Italy's bad banking debts without falling foul of EU rules, politicians and regulators have thrown out the script.
They've delivered a bailout that nationalizes losses and privatizes gains: exactly what banking union rules were meant to stop. Financial markets are cheering, but costs will emerge in the long term.
Over the weekend, Italy agreed to commit about 17 billion euros ($19 billion) in cash and state guarantees to wind down two failing banks in a way that avoids soaking senior creditors and depositors. Intesa Sanpaolo Spa, Italy's biggest bank by market value, will take on the lenders' good assets for the token sum of one euro. The deal got the EU's blessing. While certainly good for financial stability and the banking system, it can hardly be called burden-sharing.
Markets toasted the deal. And why wouldn't they? Two weak banks -- Banca Popolare di Vicenza SpA and Veneto Banca SpA -- are exiting the euro system and the private sector is mostly being spared from paying for bad loans. Italy's benchmark stock index rose 1.4 percent, outperforming peers, and the cost of insuring Italy against a sovereign debt default fell sharply.
Intesa shares rose as much as 4 percent. The bank gets 26 billion euros of performing loans and deposits, 900 new branches in Italy and billions in financial help from the public purse, according to Deutsche Bank analysts. It even gets funds to shutter most branches and cut headcount by thousands. Intesa had told shareholders it would only take part if it could preserve its dividend payout and solvency ratio. It won in the end.
Senior unsecured bonds of both Veneto banks shot up at the start of trading Monday. Vicenza 5% 2018s rose more than 13 cents, with longer-dated bonds rallying even more. Nearly 12 billion euros of senior debt will move across to Intesa, whose bonds also rose modestly.
Not all bondholders are protected. The 1.1 billion euros of riskier subordinated debt across the two banks suffered the opposite fate, moving toward zero price. They will stay in the bad banks, meaning their value is effectively worthless. But there will be money for them, too. Some 60 million euros of compensation, which may increase, will go toward bailing out retail holders of subordinated bonds.
These market moves show just how confusing the euro zone's approach to bank rescues has become. Just a few weeks ago, Spain's struggling Banco Popular Espanol SA was wound down in a similar process. But in that case, regulators decided it would serve the public interest to force a resolution and impose private-sector losses. Banco Santander SA bought the bank and said it would raise 7 billion euros to pay for potential losses. Technocratic rules seem to be bending to political expediency, rather than the other way around.
Italian politicians and bankers will naturally cheer after years of financial gymnastics and hodgepodge constructs such as the Atlante fund, designed to prop up weak institutions without inflicting pain on voters and pensioners.
But the true cost of these rescues may only reveal itself later. The next time a euro zone bank needs cash, investors will find it hard to have faith in talk of a single rule-book and strong regulatory system. And if the economy turns for the worst, those 17 billion euros may seem a steep price. The view that a bailout is always cheaper than a bank failure, expressed by a top European Central Bank official, will be tested.
To contact the authors of this story:
Lionel Laurent in London at llaurent2@bloomberg.net
Marcus Ashworth in London at mashworth4@bloomberg.net
To contact the editor responsible for this story:
James Boxell at jboxell@bloomberg.net
Before it's here, it's on the Bloomberg Terminal.
LEARN MORE