Knee-Jerk Reaction
Health Care's Happy Times Have an Expiration Date
The pain of a gutted Medicaid has just been delayed for insurers and hospitals.
By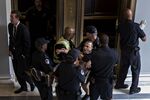 When President Donald Trump recently called the House effort to repeal the Affordable Care Act "mean," he probably didn't expect the Senate to come up with something that is arguably even meaner for some Americans.
The biggest impact of the Republican repeal effort is arguably on Medicaid. The House bill would cut $834 billion in spending on the program, according to the Congressional Budget Office, by ending ACA's expansion of it and changing it from an open-ended entitlement to one with caps on spending.
The Senate version -- according to a discussion draft released Thursday -- contains even larger Medicaid cuts. They're just delayed a few years. We won't know exactly how big the cuts will be until the CBO shares its score of the new bill next week. But they'll be large, and they will dent the revenue and profits of health-care providers. 
Yet shares of insurers and hospitals exposed to Medicaid reacted positively to the bill, which offers the industry some short-term relief. But investors seem to be ignoring an eventual time bomb. 
The Senate bill diverges from the House version in two major ways when it comes to Medicaid. First, the ACA's expansion of the program will end gradually starting in 2021, instead of ending more abruptly in 2020. That's a legitimate boost for health-care providers. 
Second, the House bill ties Medicaid's growth rate to medical inflation, plus an extra one percent for older and disabled beneficiaries. That alone would result in a big funding cut relative to current law, under which federal spending increases as needed to cover costs. The Senate version matches the House's growth rate until 2024. But after that, it will limit the growth rate to a much lower measure of general inflation, leading to even more massive cuts than the House bill would cause. 
There are things for insurers to like in the bill, on top of an extra year of Medicaid reprieve. It gets rid of a big tax imposed by the ACA, lets them charge older people more for insurance, and may let them offer less-generous coverage options in some states. 
But Medicaid is an increasingly significant revenue source for the insurance industry, with enrollment doubling for the six largest public Medicaid insurers since 2011. 
Medicaid accounted for more than $70 billion in combined revenue for Centene Corp. and UnitedHealth Group Inc. last year. Those two firms got a combined $30 billion in revenue from the program in 2014, before the ACA expansion really kicked in.
The days of such growth are numbered if this bill passes in its current form. It delays Medicaid cuts, yes, but still guts the program. The impact won't just be felt in expansion states, but throughout the country.
Hospital stocks, which don't even get the benefit of a big tax break in this bill, also rose broadly on its unveiling. They plunged with the passage of the House bill, and this bill isn't that different. Thursday's reaction seems to be a case of overvaluing what amounts to a can-kick on Medicaid, even though the can (hospital revenue, in this case) will fall into a far deeper chasm down the road.
A research note from Mizuho's Sheryl Skolnick -- evocatively titled "Lots Less Worse Short-Term; Lots More Worse Long Term" -- points out Medicaid expansion has been one of the few sources of volume growth for hospitals over the past few years. In 2014, the ACA's Medicaid expansion helped equivalent admissions grow by 10 percent for a basket of U.S. hospitals tracked by Bloomberg Intelligence.
The Senate health will end this growth and boost the number of non-paying patients hospitals must treat. Medicaid isn't everything for these hospitals, but it's not trivial.
Insurer and hospital stocks are behaving as if investors think the Senate bill will help hospitals and insurers avoid pain. But that pain has only been delayed. 
To contact the author of this story:
Max Nisen in New York at mnisen@bloomberg.net
To contact the editor responsible for this story:
Mark Gongloff at mgongloff1@bloomberg.net
Before it's here, it's on the Bloomberg Terminal.
LEARN MORE