Natural Energy Boost
Li's Tonic for China Retail
Holland & Barrett's echinacea supplements and vegan soaps are already synonymous with quality on the mainland.
By and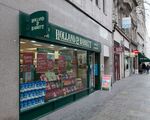 CARLYLE GROUP/THE
-0.15
At Closing, May 25th
The Carlyle Group LP's castoffs may become Hong Kong billionaire Li Ka-shing's bounty.
After trying unsuccessfully to take Nature's Bounty Co. public or find a buyer willing to pay $6 billion, Carlyle is now trying to hive off pieces of the vitamin and supplement brand it purchased in 2010 for $3.8 billion. Li's A.S. Watson & Co. is sniffing about, weighing a 1 billion pound ($1.3 billion) bid for the group's U.K. health-food chain Holland & Barrett Retail Ltd., Sky News reported Thursday.
That's a smart move.
With some 1,400 stores globally, Holland & Barrett already has more than 240 locations in China and Hong Kong, as well as an online storefront on Alibaba Group Holding Ltd.'s popular Tmall.
Tapping into the all-powerful logistics network of Watson, the retail arm of Li's CK Hutchison Holdings Ltd., would open up a crucial distribution network in mainland China and across the rest of Asia. It would allow Holland & Barrett to thrive in a way other Western retailers haven't.
The U.K.'s Marks & Spencer Group Plc, for example, shuttered its stores in China last year after failing to secure favorable locations. 1  Being part of Li's cadre of companies could also help with another obstacle that's tripped up foreign firms: Beijing's onerous health regulations.
Holland & Barrett's echinacea, cod liver oil, and vegan soaps are already synonymous with quality in China, where consumers, still circumspect when it comes to authenticity, are loading up on nutritional products. Shoppers in the U.S. or Europe might not see the need to go into a store to buy their vitamins, but many Chinese customers like the assurance that comes from a brightly lit retail outlet with shopkeepers who can persuade them of the imported goods' caliber.
China represents the second-largest market for vitamins and supplements after the U.S., according to Euromonitor International. Although sales growth has eased slightly, it's still increasing at roughly twice the rate of the U.S. and the U.K.
That could give Hutchison's retail business a much-needed shot in the arm. While its Asia and Western Europe divisions are doing reasonably well, sales at its drugstores and pharmacies in China are slipping.
As Li prepares to hand over the baton to his eldest son Victor, creating an empire that's growing steadily is key. Vitamins could just be the antidote Hutchison's China retail business needs. And for Carlyle, it can't hurt to have a buyer that needs you just as much as you need them.
To contact the authors of this story:
Shelly Banjo in Hong Kong at sbanjo@bloomberg.net
Nisha Gopalan in Hong Kong at ngopalan3@bloomberg.net
To contact the editor responsible for this story:
Katrina Nicholas at knicholas2@bloomberg.net
Before it's here, it's on the Bloomberg Terminal.
LEARN MORE