Coming to America
Jack's Jobs for the Boys
Protectionism and nationalism loom large, and they're difficult challenges for American companies to navigate.
By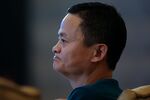 ALIBABA GROUP HOLDING-SP ADR
-3.43
As of 10:57 AM EDT
Sporting a white button-up shirt and black blazer, Alibaba Group Holding Ltd. Chairman Jack Ma sat on stage with Charlie Rose to make his pitch to America.
If you miss the opportunity to sell your products to China, you will miss the opportunity. You will miss the future.
With a line like that, Ma -- China's richest man -- could have dropped the mic and walked off stage in Detroit on Tuesday.
For a country where economic fear overshadows optimism and workers cling to any prospect of a fresh opportunity, it was the perfect soundbite for luring Americans to Alibaba. One that China's largest e-commerce provider itself highlighted on its website and social media.
In fact, Ma's spiel was a mirror image of the one he gave when Alibaba itself was getting started: "If you miss the opportunity to sell your products to the world, to the U.S., to Europe, you may miss the chance."
Where once U.S. domestic consumption was the engine of global economic growth, now it's China's turn.
It may be tempting to say that Ma's pitch to America is obvious, but as with the genesis of his company two decades ago, if Alibaba doesn't do it, someone else will. Ma's aim of creating one million jobs needs to be put into perspective -- those roles include everything from an additional sales person at a small business to extra dock workers loading ships.
U.S. exports to China grew 116 percent between 2006 and 2016, Department of Commerce data show, with little help from Alibaba. Agricultural exports comprised 20 percent of that increase -- the second-largest contributor -- so it makes sense for Ma to promote his new project to American farmers.
Yet what Ma and Alibaba really bring to the table is a single platform for U.S. individuals and businesses -- be they big fashion brands, boutique jewelers or small farm owners -- to sell directly to Chinese consumers. Alibaba's strength in logistics and payments will further grease the wheels of commerce.
Alibaba is also a place for these U.S. suppliers to compete against each other, forcing prices lower among cost-sensitive mainland customers. Expect to see griping from Alibaba's U.S. users about low prices and high expectations, not to mention speed bumps caused by language, cultural and timezone challenges.
None of that will compare to the bigger problems of protectionism and nationalism, however. Few countries, least of all the U.S., can claim to be fully open to foreign trade, but Beijing's approach is often whimsical and a challenge to navigate.
China's government is also quick to foment a populist backlash against nations that upset Chinese pride, and Ma isn't so foolhardy as to be the voice of reason in such heated times. U.S. consumers thumbing their nose at fried slices of potato 14 years ago is nothing compared to what South Korean and Japanese companies have endured over the past few years at the hands of Asia's biggest economy.
Ma has done a fantastic job of boosting China's foreign trade, but don't expect the story to be as amazing when he attempts to do the same thing for the U.S.
To contact the author of this story:
Tim Culpan in Taipei at tculpan1@bloomberg.net
To contact the editor responsible for this story:
Katrina Nicholas at knicholas2@bloomberg.net
Before it's here, it's on the Bloomberg Terminal.
LEARN MORE