Barclays Charges
Out of the Crisis, Into the Courts
It's encouraging to see accountability is more than just a word.
By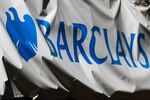 BARCLAYS PLC
+0.90
At Closing, May 25th
ROYAL BANK OF SCOTLAND GROUP
-0.50
At Closing, May 25th
It's wrong to say that no banker has been targeted by prosecutors over the financial crisis of 2008 -- you only have to look at the U.S. or Iceland for examples.
But the CEOs of top investment banks haven't, by and large, faced charges. Until Tuesday, when Britain's Serious Fraud Office charged Barclays Plc, ex-CEO John Varley and three other former executives with fraud. They are the most senior U.K. bankers to be prosecuted since the crisis.
It's an encouraging signal that senior executives will have to justify their actions in court, regardless of the outcome of the case. Better ten years late than never.
The charges relate to Barclays' fight to avoid a government bailout in the summer of 2008, which it achieved by tapping Qatar and other wealthy investors for 12 billion pounds ($15 billion). Regulators have honed in on what Qatar got from Barclays at about the same time, including a $3 billion loan facility and fees.
Barclays says it's "considering its position" over the allegations, while Varley's lawyer has declined to comment, according to Bloomberg News.
It may seem a bit strange to see charges being filed over an effort to avoid a government rescue rather than, say, the sale of toxic mortgage-backed securities that caused the crisis or the near-collapse of Royal Bank of Scotland Group Plc which triggered a government bailout. There, the biggest individual punishment seems to be a stripped knighthood.
This disconnect was not lost on the Qatari royal who oversaw the Barclays investment, Sheikh Hamad bin Jassim bin Jabr al Thani. He told the Financial Times last year that the fundraising was conducted legally and deserved praise. "We thought we had helped the British economy at a bad time and that someone would thank us for it," he said.
But potential accountability deserves to come before matters of political expediency, regardless of whether it's about protecting the economy, taxpayers or deep-pocketed foreign investors.
That has been the direction of travel of recent regulation in the U.K. such as the Senior Managers' Regime, which puts executives at risk of jail for failing to spot serious misconduct on their watch. The SFO's charges against both the firm and individual executives, under laws that pre-date the crisis, speak to that link between seniority and accountability. That's valuable.
And in these politically charged, Brexit times, there's something to be said for proving that accountability is more than just a word. Prime Minister Theresa May has spoken about the need to improve corporate governance and to tackle "vested interests" in the business world.
She has controversially proposed scrapping the SFO and replacing it with a new unit to better investigate money laundering and financial crime. At a time when U.K. public disillusionment in all institutions is growing, symbolized by an election with no winner, nobody should be above the law.
Barclays has been dogged by scandals since the crisis: the investigation into the rigging of key benchmark rates cost Varley's successor Bob Diamond his job. There's no telling yet whether Tuesday's charges will vindicate the bank, or add to an already long list.  But making high-profile financial-industry executives justify their actions is something to be cheered regardless. 
To contact the author of this story:
Lionel Laurent in London at llaurent2@bloomberg.net
To contact the editor responsible for this story:
Edward Evans at eevans3@bloomberg.net
Before it's here, it's on the Bloomberg Terminal.
LEARN MORE