Eastern Charm
China's Shifting Tech Piggy Bank
Mainland entrepreneurs want to be in control, and they want their compatriots as big investors in the same time zone.
By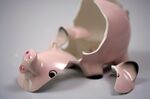 TENCENT HOLDINGS LTD
-5.80
As of 11:59 PM EDT
Hong Kong's plan to create a third exchange for new economy 1 companies may have legs.
Having missed out on Alibaba Group Holding Ltd.'s $25 billion initial public offering, the city's exchange is proposing a new bourse that would have two parts: one open to all investors where companies are permitted to have dual-class share structures, and a second purely for professional investors where companies with no track record can trade.
It could be a way to shake things up in a city whose main board has become stacked with property developers and financial institutions, many of them state owned. The U.K. and Singapore are considering multiple share classes too.
Chinese tech companies wanting to maintain a greater degree of control over voting rights will find a ready investor base in the former British colony. Billions of yuan lie just across the border looking for a home, and Tencent Holdings Ltd. is already a firm favorite.
Chinese companies that are publicly traded in the U.S. have also been hit several times over the past few years by accounting scandals and as volatility at home tainted sentiment across the Pacific. Furthermore, it's more expensive from a regulatory point of view to be listed in North America, plus there's the constant specter of class-action lawsuits, which aren't allowed in Hong Kong.
The city's Securities and Futures Commission may decide against yielding its opposition to dual-class offerings to protect minority investors, but the pressure is real, and Hong Kong Exchanges & Clearing Ltd. is proposing safeguards that would avoid an IPO like Snap Inc.'s, where founders control the stock even if they leave.
China's tech entrepreneurs want to be in command, and they want their compatriots as big investors in the same time zone. Considering the long queues for listing approval, and the requirement that companies be making a profit, debuting on the mainland is all but impossible.
New York's days as a Chinese piggy bank may be numbered.
To contact the author of this story:
Nisha Gopalan in Hong Kong at ngopalan3@bloomberg.net
To contact the editor responsible for this story:
Katrina Nicholas at knicholas2@bloomberg.net
Before it's here, it's on the Bloomberg Terminal.
LEARN MORE