Bailout Talks
Greece's Lonely Ticket to Bond Land
Don't expect the ECB to include the country's bonds in QE.
By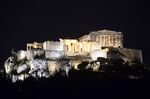 One door opens and another closes. Greece's creditors have agreed to release 8.5 billion euros ($9.5 billion) of new loans -- vital if the country is to repay a bond that falls due in July.
Yields on Greece's 10-year government bonds have dropped almost 40 basis points this week to 5.7 percent. The low of 5.56 percent seen in September 2014 beckons -- as does the prospect for Greece to issue debt again in its own right.
But Greece had been hoping that the European Central Bank making the country's bonds eligible for purchase under its quantitative easing program. That now looks like a long shot.
The central bank wants to avoid being dragged into a sensitive political minefield, especially this side of Germany's elections.
The ECB says it will conduct its own debt sustainability review, following on from a separate assessment by the International Monetary Fund due on July 27th. The central bank will most likely delay a judgment until a second sustainability review in August 2018, when the third Greek bailout expires.
Greece is clearly a long way from actually joining club QE given that lengthy timescale.
As the ECB is already tapering its government bond purchases, it may well be that the whole program will have come to an end before Greece finally jumps through all of its hoops.
But this isn't to say Greece will actually need the ECB to be able to come back to the bond market. With the next scarily large bond repayment not until April 2019, a modest sized deal would likely be well received by investors hungry for yield.
From there, it could steadily build out a yield curve with targeted issuance in response to specific investor demand. All baby steps to a longer-term self-reliance.
Greek banks are likely to be keen buyers. They're especially interested in reinvesting the money they received from a government bond that matured in July. Under ECB rules, they can use future issuance as deposit collateral with the central bank, and so help improve their funding position.
Greece has taken a small step forward. But it will have to take the next steps without any training wheels. No small ask.
To contact the author of this story:
Marcus Ashworth in London at mashworth4@bloomberg.net
To contact the editor responsible for this story:
Edward Evans at eevans3@bloomberg.net
Before it's here, it's on the Bloomberg Terminal.
LEARN MORE