Sugar-Free
Nestle Is Better Off Losing the Candy Weight
The U.S. confectionery business is a drag on the company and there are a number of possible buyers for it.
By and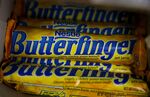 NESTLE SA-REG
-0.20
At Closing, April 20th
MONDELEZ INTERNATIONAL INC-A
-0.90
At Closing, April 20st
For Nestle SA, the U.S. candy market isn't so sweet.
The Swiss food giant is considering a sale of its U.S. business that makes sugary treats including Butterfinger, Crunch and LaffyTaffy. But for Americans thinking, wait, what is Nestle without its chocolate? -- don't worry, it's keeping the iconic Toll House cookies and their key ingredient, chocolate morsels. 
Anemic growth in the U.S. food industry has been fueling a great reshuffling of assets as the heavyweights study megamergers and opportunistically scoop up newer brands that show promise, while parting with the laggards. Chocolate's deliciousness hasn't shielded it from the broader industry slowdown.
The projected compound annual growth rate for the next five years for both chocolate and sugar confectionery in North America is around 2 percent, according to Euromonitor International. And Nestle's business specifically experienced a decline in the first three months of the year and has lost market share. It only makes sense that it's ready to move on from this market, where margins trail its global average. 
The products also don't fit with Nestle's move toward healthier foods, even though new CEO Ulf Mark Schneider has said that there's no "flagrant" contradiction between chocolate and healthy eating. We'd all like to believe that's true, but our waists know better. It seems Nestle is finally listening to my colleague Andrea Felsted, who has written a series of smart columns including one suggesting that if Schneider really wanted to keep the U.S. chocolate business, he should take a page out of rival Lindt & Sprungli AG's playbook to spruce it up. And if he weren't ready to invest in it, then it's time to let the division go and stop being a drag on the company.
The candy industry in the U.S. is dominated by Hershey Co. and Mars Inc., though any of the market leaders in this chart could take an interest:
Mondelez International Inc., the snacks company that makes Oreo and Sour Patch Kids, could bolster its candy offerings with Nestle's strong names. While Mondelez split from Kraft Foods with the intention of targeting faster-growing international markets, it made a failed run at Hershey last year. 1
Private equity firms may also have a sweet tooth. Right now, their best shot of achieving targeted returns won't come from pursuing large leveraged buyouts of expensive companies. Instead, they're more likely to hit home runs by attempting to turn around poor performers and recharge their growth, as such businesses often fall victim to under-investment when trapped within a conglomerate such as Nestle. 
The U.S. confectionery business generated revenue of about 900 million Swiss francs in 2016, which is about $923 million based on Thursday's exchange rate. Food acquisitions can go anywhere from two times sales to more for big, sustainable brands. Even if Nestle could fetch $3 billion for the division, that's perfectly digestible for buyout firms. And it wouldn't be the first time private equity was there to pick up Nestle's unloved assets. In 2013, it sold most of its weight-loss focused Jenny Craig brand to North Castle Partners. It's also sold a number of castoffs including Juicy Juice drinks and Nutrament to Brynwood Partners and the companies that firm owns. 2
And then there's the suitor one can never leave out: 3G Capital. Kraft Heinz Co., which is controlled by 3G and run by the private equity firm's partners, is looking hard for its next acquisition. While a deal for Nestle's candy business isn't on the scale of the transaction everyone's expecting, it still could be on Kraft Heinz's radar. 3G would undoubtedly see a way to take out costs and boost profits beyond what Nestle could do. Still, it probably makes more sense for a company focused on this market to tack on these brands. 
With a number of potential bidders, Nestle could well be rewarded for losing the weight.  
And although closely-held Mars could use this as an opportunity to extend its lead, its pending $8 billion deal for animal-hospital chain VCA signals its focus is on building out its pet business, where growth isn't quite as subdued as candy.

One buyer that may hold an advantage over others is European private equity firm CVC Capital Partners, which acquired Campbell Soup Co.'s European simple meals unit away from a competitive auction. Bertrand Meunier, a managing partner there, has developed a respected track record among food companies, having previously been involved in deals including carve-outs from Danone SA and Campbell Soup Co. and the buyout of United Biscuits.
To contact the authors of this story:
Tara Lachapelle in New York at tlachapelle@bloomberg.net
Gillian Tan in New York at gtan129@bloomberg.net
To contact the editor responsible for this story:
Beth Williams at bewilliams@bloomberg.net
Before it's here, it's on the Bloomberg Terminal.
LEARN MORE