Check, Please
Marry Me, or I'll Sue
It's a love story for the ages. And the lawyers.
By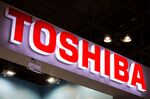 The candlelight flickers softly on the white tablecloth as you finish the last morsels of your wonderfully romantic meal.
A violin plays in the background and the dessert cart has just been wheeled away when he pops up from his chair and kneels in front of you.
"Marry me," he says.
Just as you start to question whether that giddy feeling is the champagne or the proposal, you look more closely at his hands.
It's not the Tiffany you were expecting, but a manila folder full of papers.
"You're contractually obliged to marry me," he says in that deep soothing voice that wooed you from day one. 
You gasp. He takes that as a positive sign.
You've a choice to make: Another glass of bubbly, or call your lawyer.
"But, Western Digital, I've been seeing other people," you blurt out.
It's not that he's not the one, you explain, but you need to consider all the options and decide what you really want for the future. 
Sharing a Netflix account and signing up for couples classes at the local gym doesn't mean you're committed for life. Forever.
"I don't care, Toshiba," he says. "If you don't marry me, I'll sue."
You try to explain that just because you both take care of a dog doesn't mean you have to stay with him til death do you part. After all, the aging black labrador came with the house when he moved in.
He's still down on one knee, telling you how much your parents and friends love him.
You chew your lip, electing not to enlighten him to the fact that your parents loathe him and your friends tolerate him. They do like your other dates, Broadcom and KKR, however. Even Foxconn makes your father laugh from time to time.
It's not a tough decision after all.
"Keep the dog," you say as you walk out.
To contact the author of this story:
Tim Culpan in Taipei at tculpan1@bloomberg.net
To contact the editor responsible for this story:
Katrina Nicholas at knicholas2@bloomberg.net
Before it's here, it's on the Bloomberg Terminal.
LEARN MORE