The Trouble With Being a Trendsetter
This premium valuation is justified.
By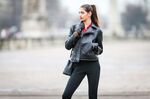 HENNES & MAURITZ AB-B SHS
-1.48
As of 7:05 AM EDT
INDUSTRIA DE DISENO TEXTIL
+0.13
As of 7:06 AM EDT
Shoppers at Inditex's Zara are used to picking up the hottest styles at affordable prices. Not so investors in the world's largest clothing retailer.
As usual, Inditex SA delivered impressive sales growth in its first quarter, in contrast to rivals Hennes & Mauritz AB and Next Plc, which have struggled to lift revenue.
But unlike Zara's floral dresses and ruffled jumpsuits, the shares may look pricey. They are up about 27 percent over the past year, and trade on a forward price earnings ratio of 29 times, almost double the ratio for H&M.
Inditex's challenge has been to increase sales while maintaining margins. In the final quarter of its last financial year, the gross margin -- the difference between the price at which a retailer buys and then sells on goods -- shrank to its lowest level for almost eight years.
The latest results show some progress. The gross margin rose to 58.2 percent in the first quarter, from 54.8 percent in the previous three months.
As Gadfly has argued, in a difficult retail market, Inditex is better placed than most. Even though consumers are falling out of love with clothing, Zara's ability to get the hottest styles from runway to retail within weeks means it should still have a competitive edge. Its quick turnaround time also means it should be able to weather-proof its sales, while other retailers struggle with unpredictable swings in temperatures.
Inditex has not been able to escape the impact of the strong dollar. It's affected margins, because retailers usually pay Asian suppliers in the currency.
But its business model helps here too: about half its clothes are made close to its headquarters in northwest Spain, Portugal and North Africa. It only sources about 30 percent of its products from Asia, compared with about 80 percent at H&M.
And Inditex is continuing to innovate and adapt its model for the growth of online retail, in part by opening fewer but larger flagship stores. It is also introducing advanced technology across its brands that tracks the location of individual garments, helping to integrate the online and in-store operations.
The company's greater resilience justifies its premium valuation. But it also means there is no room for disappointment. Indeed, the shares fell as much as 2 percent in early trading, as sales growth missed some of the most optimistic analyst expectations. While Inditex is undoubtedly a superstar, some expectations had got ahead of themselves, something the company will have to live with.
Indeed, that's the trouble with being a trendsetter. You have to stay ahead of the fashion pack.
To contact the author of this story:
Andrea Felsted in London at afelsted@bloomberg.net
To contact the editor responsible for this story:
Jennifer Ryan at jryan13@bloomberg.net
Before it's here, it's on the Bloomberg Terminal.
LEARN MORE