A Mystery $20 Billion Dalliance
If Hexagon does find a willing buyer, expect price to be an obstacle.
By and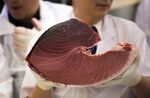 SIEMENS AG-REG
-3.00
At Closing, April 24th
HEXAGON AB-B SHS
-1.60
At Closing, April 24th
Hexagon AB shareholders are getting used to a bit of mystery. Shares in the Swedish industrial group shot up as much as 18 percent on Wednesday after the Wall Street Journal reported the company had held talks to sell itself to an unnamed rival for $20 billion. If a deal is in the offing, it could scarcely come at a more convenient time.
Under the 17-year leadership of Ola Rollen, Hexagon has transformed itself through a string of deals from a conglomerate that once imported tuna into a technology group that helps industrial and infrastructure companies become more efficient. Software and services now account for more than 50 percent of revenue.
Rollen has been supported along the way by former chairman and lead shareholder Melker Schorling. Indeed, the share price had come to look reliant on the Rollen-Schorling M&A magic continuing.
There are now doubts whether it can. Hexagon plummeted almost 20 percent in October when Rollen was briefly detained on suspicion of insider trading in unrelated investments. The week before, Schorling announced he would step down, citing health issues. Rollen was indicted in March, but remains at the helm with board backing. His lawyers say they're confident the court will see there is no case against him.
The market may be relaxed -- the shares regained their all-time highs in recent weeks. But with Rollen facing trial and Schorling stepping back, the situation is far from stable. It's hard to see a scenario where an exit of Rollen, forced or otherwise, didn't damage the share price without a deal.
Meanwhile, a block sale of Schorling's 26 percent holding would lead to a de facto change control given he has nearly 50 percent of the votes. Growth has tailed off lately. Organic sales growth was just 2 percent last year, dampened by Hexagon's exposure to the oil and gas industry.
So the standalone story is uncertain. If there are willing buyers, the board should entertain them.
The main obstacle is valuation. At its current share price, the company's enterprise value is about 16 times estimated Ebitda. That makes it significantly more expensive than larger industrial conglomerates like Schneider Electric SE or Siemens AG.
A deal at a 30 percent premium to the shares' three-month average would value Hexagon at 187 billion Swedish kronor ($22 billion) including assumed net debt. The return on invested capital would be only 4 percent based on estimated 2020 operating profit. A bidder would need to find colossal synergies to achieve a return in line with the deal's likely 8 percent cost of capital.
Maybe Hexagon is a willing seller. Whether it can find a buyer willing to pay up at this awkward moment in its history, we'll see.
To contact the authors of this story:
Chris Hughes in London at chughes89@bloomberg.net
Chris Bryant in Berlin at cbryant32@bloomberg.net
To contact the editor responsible for this story:
Edward Evans at eevans3@bloomberg.net
Before it's here, it's on the Bloomberg Terminal.
LEARN MORE