Empty Armchairs
Football's TV Fans Have Gone Missing
Smartphone users can't explain away the drop in Premier League TV viewers.
By and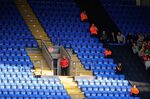 SKY PLC
-7.00
At Closing, April 20th
After a loss, soccer managers often present a litany of excuses in post-match TV interviews. Mastering the ritual is a key skill of the best coaches from Jose Mourinho to Pep Guardiola.
This season, Sky Plc has similarly had to explain why fewer people are watching the English Premier League than before, despite the crazy high cost of broadcast rights. One reason often offered up is that more and more people are watching video on smartphones, tablets, or computers and are therefore invisible in traditional ratings data.
Yet an analysis by Gadfly of this season's viewing figures both on live television and via apps over the internet belies that argument. There are simply not enough people watching on Sky Go, the app that lets subscribers watch the pay-TV service on any device, to account for the magnitude of the declines. In fact, relatively few subscribers used the Sky Go app to watch the Premier League this season, according to an analysis of new data from the U.K. Broadcasters' Audience Research Board.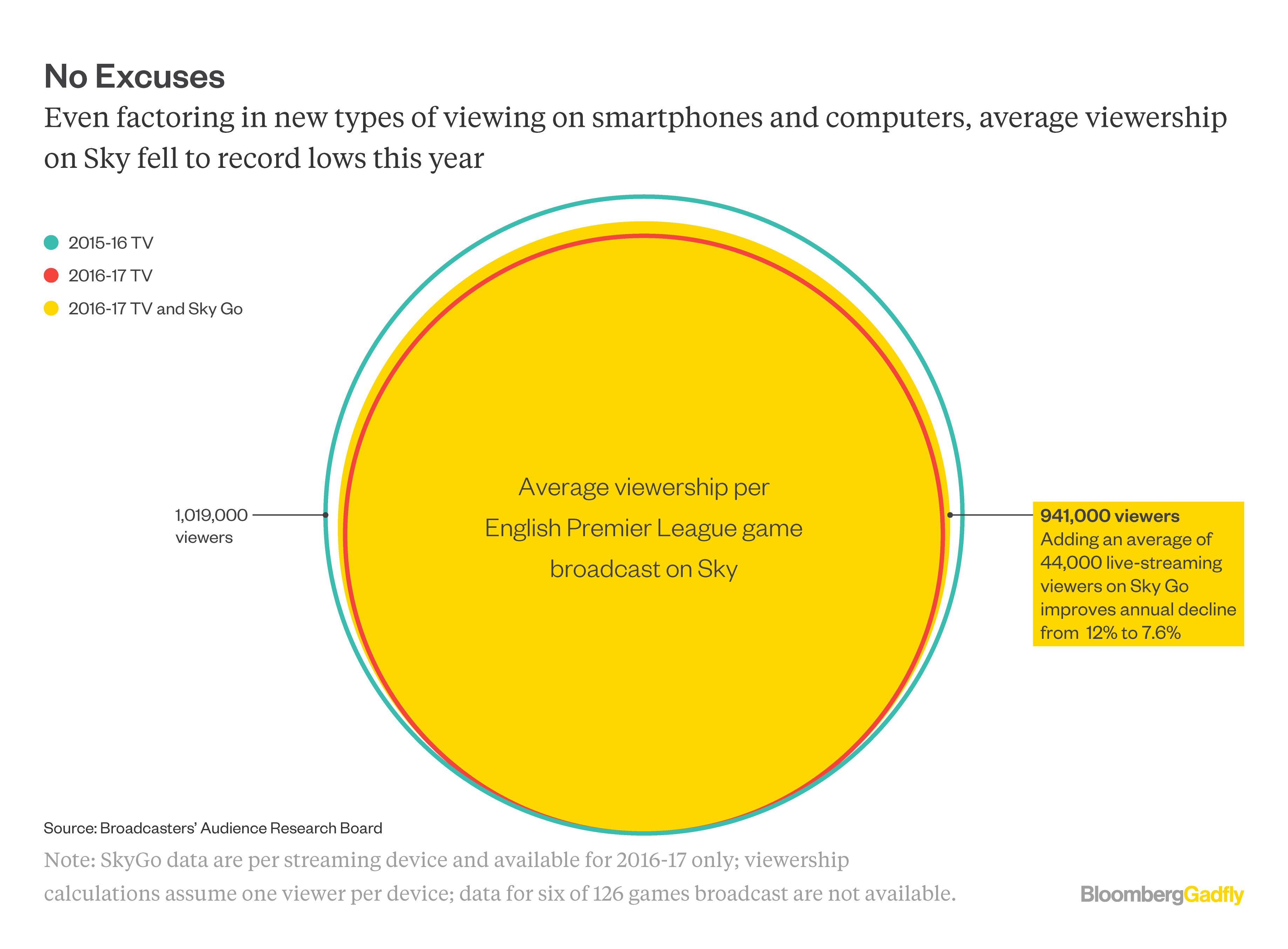 Assuming one person watched on each device, about 44,000 people used the Sky Go app to view each game on average. That's just 5 percent of the typical audience of 897,000 for each of Sky's televised games for the latest season. The data are not perfect: it's not possible to track how Sky Go use has evolved over time because Sky only started providing its usage statistics to BARB this season. 1  BT Group Plc, which also screens Premier League games, doesn't provide any data on viewing online or on apps.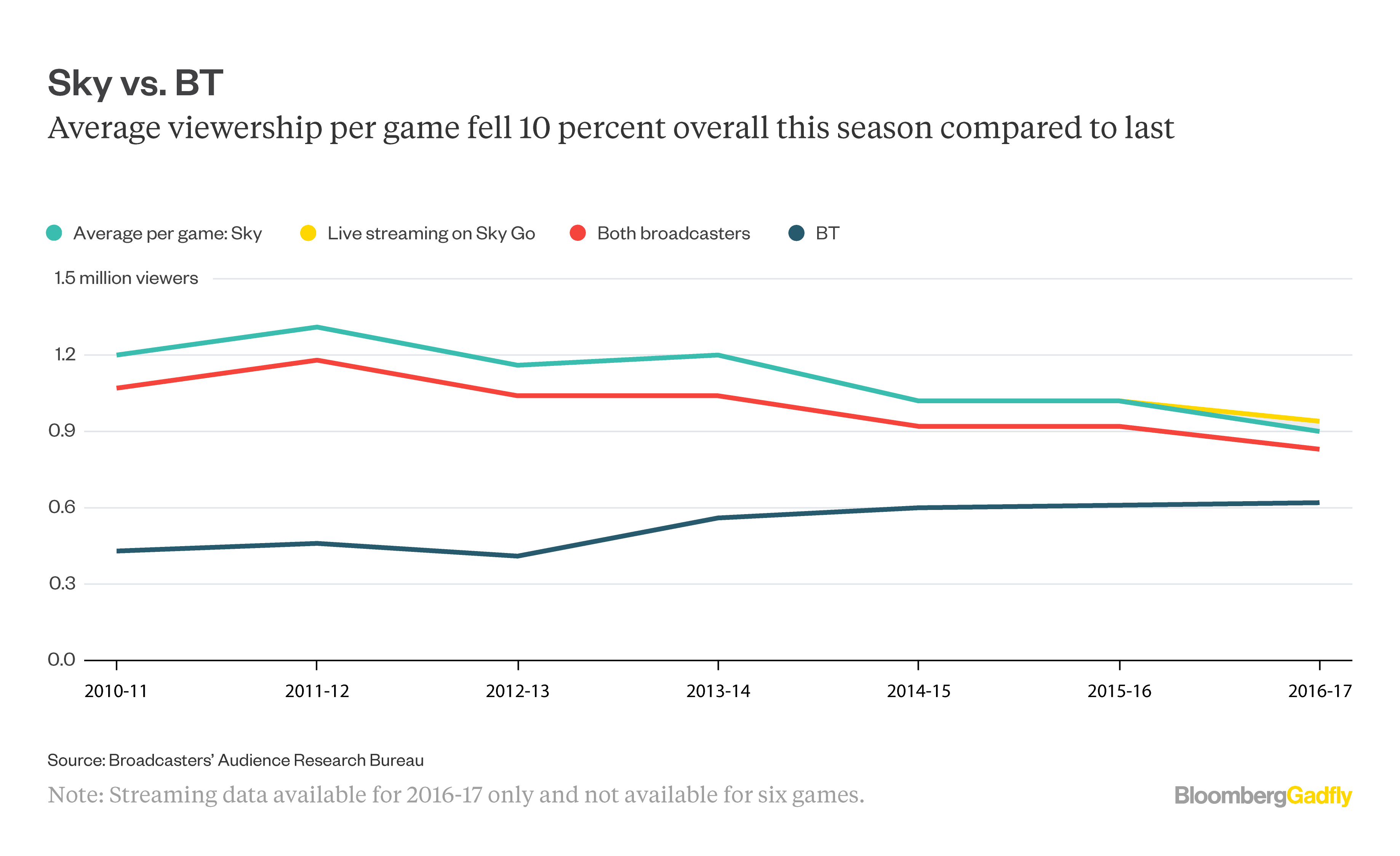 It makes sense that many still like to watch live sports on a big screen instead of a smartphone. But where have the rest of the fans gone? That's the 5 billion pound ($6.3 billion) question. That was the price Sky and BT had to pay for the 2016-2019 TV rights, a 70 percent increase from the prior deal.
Theories abound. Maybe it's piracy via illegal streams, which are impossible to track. Maybe it's viewer fatigue as the league adds games to the TV schedule. The 2016-2017 season included 9 percent more matches than the previous three, and 20 percent more than in 2012-2013.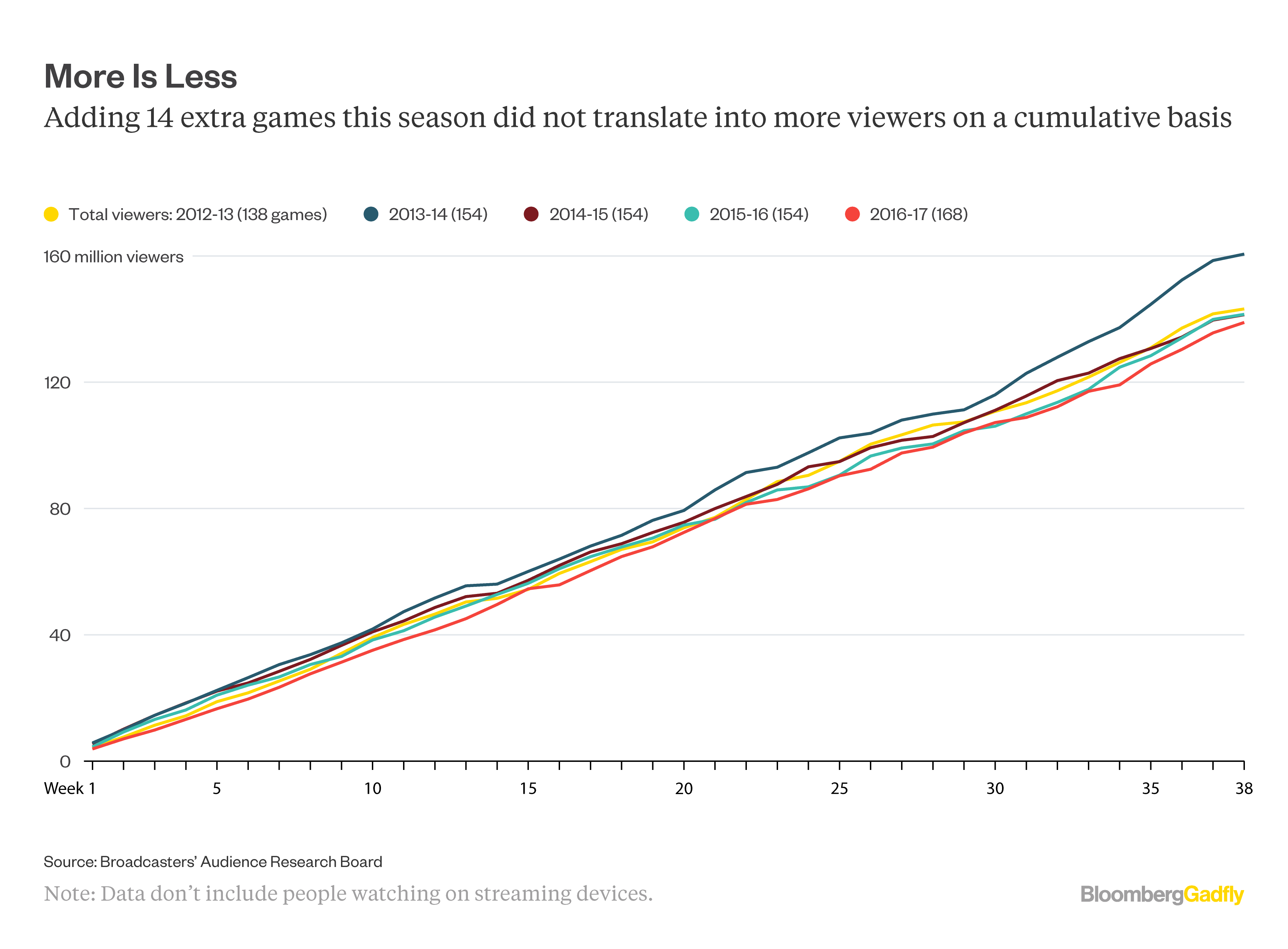 Maybe it's just that there are way more entertainment options out there now. The Premier League is competing for our time with everything from Snapchat Inc. to the latest box set on Netflix Inc. Young people seem less interested in sport, as we've explored before.
Most worrying is that live football is not the TV draw it once was. Our tracking of viewing patterns over this season, and comparisons to the six previous seasons, would support that. Across time slots and top teams, it's a declining trend.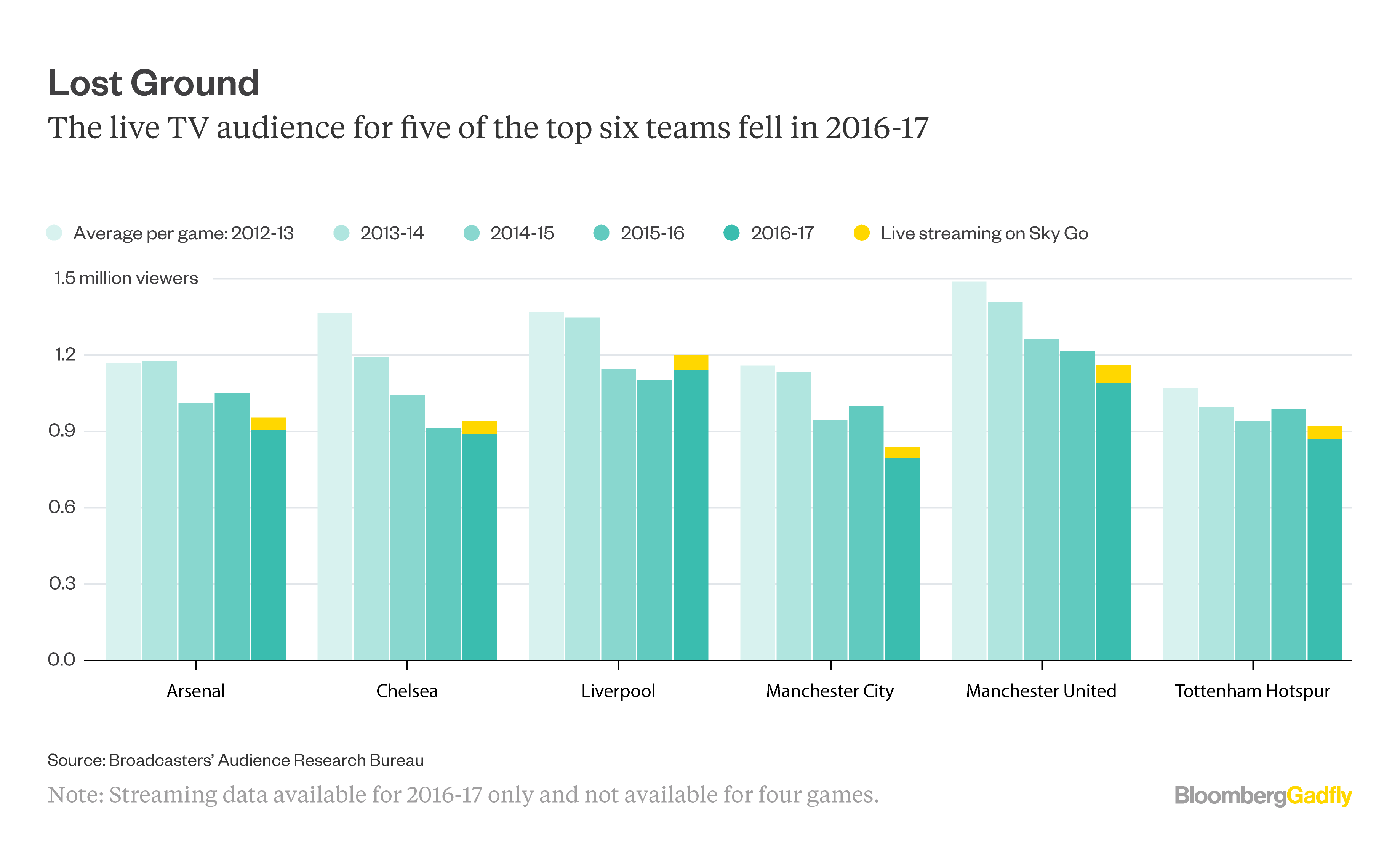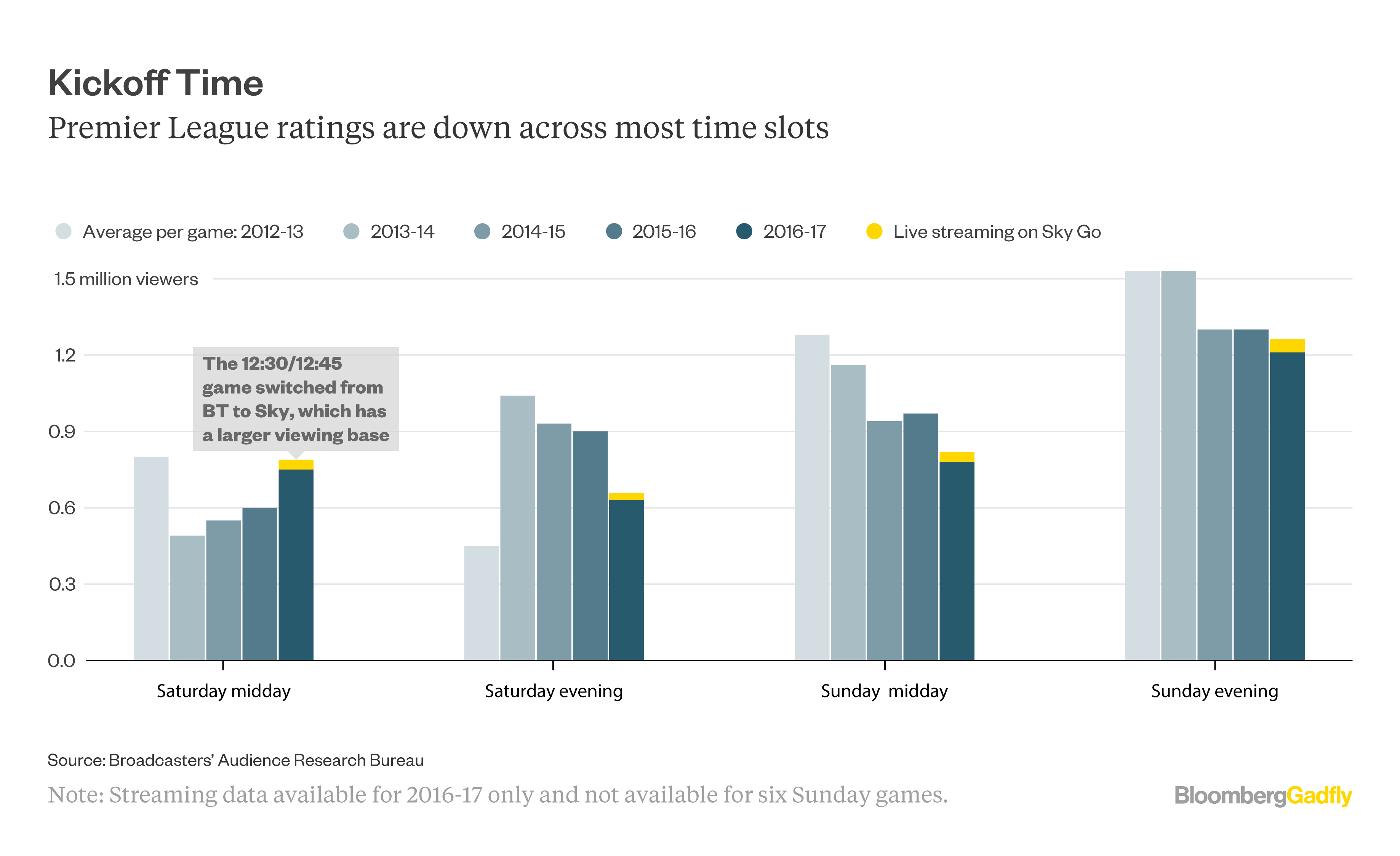 For a sport that's been living it up on TV's billions, these losses aren't easy to explain away. 
People who watch the football on Sky's low-cost, no-contract Now TV service via an app or on their computers are not included in the BARB data. But Now TV users who watch on their televisions via a set-top box provided by Sky or Virgin Media are counted. Nevertheless their ranks are small enough that they wouldn't reverse much of the decline seen this season. 
To contact the authors of this story:
Leila Abboud in Paris at labboud@bloomberg.net
Elaine He in London at ehe36@bloomberg.net
To contact the editor responsible for this story:
James Boxell at jboxell@bloomberg.net
Before it's here, it's on the Bloomberg Terminal.
LEARN MORE