cheap as chips
This $1.3 Billion Deal Is Chump Change
If Lattice throws open the door to more Chinese tech takeovers, $1.3 billion will look cheap.
By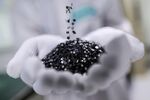 LATTICE SEMICONDUCTOR CORP
+0.07
At Closing, April 25th
Lattice Semiconductor Corp. and Canyon Bridge Capital Partners are a determined bunch.
While most others who tried to pull off China-U.S. chip takeovers gave up at the first whiff of CFIUS trouble, Lattice-Canyon are pushing through.
This month they filed to the Committee on Foreign Investment in the U.S. for a third time, allowing the parties to reset the timer on a review that may help bring Canyon Bridge's $1.3 billion purchase of Portland-based Lattice to a close.
That shows some chutzpah. Lattice, you see, designs a niche catalog of programmable chips that are used in products ranging from virtual reality headsets, to mobile phones, to medical operating theaters. But those chips can also have military applications.
Canyon Bridge is inextricably linked to Chinese state money. Setting up office in Palo Alto, California isn't enough to hide this reality, as Bloomberg's David McLaughlin and Miles Weiss reported.
In the eyes of CFIUS, Beijing money and U.S. military technology mix like oil and water and the committee has thumbed its nose at less controversial deals.
Except that CFIUS doesn't actually approve, or reject, an investment. The inter-agency committee conducts reviews and then makes its recommendation to the president. This means that no matter how powerful CFIUS seems, Donald Trump is more powerful.
With a new leader in the White House, Lattice and Canyon Bridge seem to be betting that precedent for rejecting takeovers will no longer apply. But they're not taking any chances. To calm CFIUS, parties usually offer to excise certain product lines from the acquisition in order to make the case that sensitive technology won't fall into the wrong hands.
That appears to be what Lattice CEO Darin Billerbeck is doing, telling employees in an email that his company offered a "comprehensive set of mitigation proposals," Bloomberg's McLaughlin reported Monday.
It'd be interesting to see what these proposals are. Lattice discontinued and divested some of its military-focused products five years ago, but the rest of its catalog has multiple applications. It supplies chips used in drones, for hardware security and to help read license plates. Sure, it could hive off some of those products to make committee members happy, but any one of its chips could still be used in military applications.
But then, the same could be said for any semiconductor, even mundane memory chips (which Lattice doesn't make).
If this new tactic works, the implications could be far-reaching. We don't yet know whether President Trump will heed CFIUS's advice, but if the committee accepts a new Lattice-Canyon proposal and he listens, then the door will once again be wide open for Chinese to start throwing money at U.S. chipmakers.
With semiconductor stocks among the best performers over the past year, and tech shares hitting a speed bump in the past week, the wider upside from this one deal makes its $1.3 billion price tag look like chump change.
To contact the author of this story:
Tim Culpan in Taipei at tculpan1@bloomberg.net
To contact the editor responsible for this story:
Matthew Brooker at mbrooker1@bloomberg.net
Before it's here, it's on the Bloomberg Terminal.
LEARN MORE