There's a simple argument behind President Donald Trump's complaints that China's steel mills are killing their American rivals.
Since 2000, China's output of steel has risen more than 560 percent, from just over 100 million metric tons a year to 690 million tons in the past 12 months. During the same period, U.S. employment in manufacturing primary metals like steel, aluminum and copper has dropped 38 percent, from 625,000 to 385,000 jobs.
With Department of Commerce officials set to brief Congress Friday on an investigation into whether steel imports threaten U.S. national security, and Commerce Secretary Wilbur Ross weighing anti-dumping measures, it's worth asking whether that relationship is as straightforward as it seems. After all, about the closest thing the global steel industry has to a fundamental law of nature is the steel intensity curve.
Poor countries use very little steel per unit of gross domestic product. As they industrialize, this steel intensity increases rapidly, to the point where the country starts to transition toward consumer-led growth. At that point, steel intensity starts to slip again, as spending shifts from industrial products like machinery and buildings, to less metal-intensive categories, such as yoga mats and degustation menus: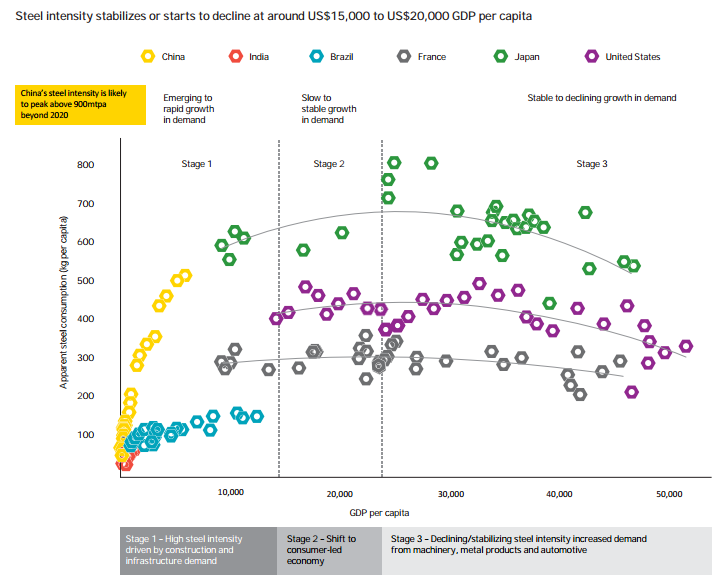 Considered in the context of the evolution of steel intensity, it's clear that U.S. metal output isn't declining because of overseas competition, but because as America gets richer, it's buying different stuff.
Employment is also suffering because the steel the U.S. does still produce is being made more efficiently: Labor productivity in the U.S. primary metal sector has risen from 54 in 1987 to 115 in 2016, according to the Bureau of Labor Statistics.
You have to squint quite hard to even see Chinese steel imports to the U.S., when compared to the size of the domestic trade. The country's mills produced about 79 million tons over the past 12 months, versus about 742,000 tons of imports from China, which only just makes it into the top 10 exporters.
In every subcategory of traded steel, China is little more than a footnote in terms of U.S. imports:
Ross is on slightly firmer footing in his claim that China's domestic steel glut is contributing to the recent weakness in prices -- but only slightly. While China is certainly a big exporter of steel, the vast majority goes to other countries in Asia, most of them emerging economies that lack the domestic capacity to meet their own demand.
To the extent that prices of U.S. and Chinese steel tend to go hand-in-hand, it's more because both industries use raw materials -- iron ore, coking coal, scrap, and natural gas -- that really are traded on a busy global market.
Isn't there at least a case for whacking Chinese steel producers as a message to Trump's base that he's standing up for their jobs? That's a pretty lame argument, and unfortunately it doesn't even make sense on its own terms.
The U.S. manufacturing sector doesn't just contain steelmakers -- it contains steel-users too. While primary steelmaking employs 385,000 Americans, transforming that metal into fabricated parts, machinery and vehicles accounts for about 4.1 million jobs. All things being equal, those industries have most to lose from a U.S. steel industry that can use protection from overseas competition to raise prices.
The U.S. has everything to gain and little to lose from open global markets. In trying to hurt China, Washington risks shooting itself in the foot.
This column does not necessarily reflect the opinion of Bloomberg LP and its owners.
(Updates to add Department of Commerce briefing details in third paragraph. An earlier version of this column was corrected to amend references to U.S. steel trade balance in last paragraph and removed a chart based on same data.)
To contact the author of this story:
David Fickling in Sydney at dfickling@bloomberg.net
To contact the editor responsible for this story:
Katrina Nicholas at knicholas2@bloomberg.net