Altice USA
Cable Billionaire Should Look After His American Buddies
Patrick Drahi needs to stay modest when pricing Altice USA.
By and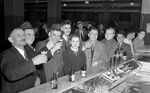 COMCAST CORP-CLASS A
-0.27
At Closing, April 20st
ALTICE USA INC- A
+0.19
At Closing, April 20st
Billionaire Patrick Drahi is being uncharacteristically generous as he seeks new investors to help him crack America.
His telecoms group Altice NV has set a pretty reasonable price of $27 to $31 per share in an upcoming sale of 6 to 7 percent of its U.S. cable business. The implied valuation lands roughly where it should be given those of larger listed rivals Comcast Corp. and Charter Communications Inc.
Drahi, an inveterate dealmaker who took Altice on a 50 billion-euro ($56 billion) acquisition frenzy a few years back, should resist the temptation to raise the price, even if demand proves strong. It probably will be, given the small size of the float and paucity of listed names in a cable sector that shareholders have come to appreciate.
So why not ask for more? Drahi is being patient. Altice USA Inc. wants to buy more cable operators to vault out of fourth place behind Comcast, Charter, and privately-owned Cox Communications Inc. Being a tad modest on the initial valuation would help earn goodwill from U.S. shareholders, whom Altice may need if it's to issue shares for its next acquisition. 
Plus some investors still need to be convinced that the French tycoon and his lieutenants can run cable assets better than their U.S. counterparts by using lessons learned in the more competitive European market. One way to do that would be to keep improving operating profit and sales growth at Suddenlink and Optimum (formerly Cablevision) and see the newly listed shares rise.
The middle of the indicative price range ascribes Altice USA an enterprise value of nearly $43 billion. That would be about 10.7 times ING's forecast of $4 billion for the unit's Ebitda this year. The valuation would be a 6 percent discount to Charter and an 18 percent premium to Comcast, according to Bloomberg data. Assume Altice USA can increase Ebitda by 10 percent to $4.4 billion next year, and the valuation again comes out at a slight discount to Charter and a notable premium to Comcast based on their enterprise multiples for 2018.
That feels about right. As Gadfly argued in April, it makes sense for Altice USA to trade somewhere between its two big U.S. peers. John Malone's Charter is in the midst of wringing out $1 billion in savings from taking over Time Warner Cable, which should boost earnings, and is run by proven management. Yet Altice has been a capable cost-cutter on both sides of the Atlantic. As such, it probably deserves to be rated closer to Charter than Comcast, whose value is dragged down by ownership of broadcasting assets. 
But Drahi's usual method of layering high debt on his companies and growing by acquisition means he often needs allies on equity and debt markets. One way to win friends when you're the new kid in town is to hand out presents. That would argue for giving a decent IPO discount here, nudging the issue price to the lower half of the range.
A sensible valuation, a rising equity market, a shortage of cable stocks and small issue size should all conspire to ensure this deal gets away without much difficulty. Drahi would be advised to play the long game even if demand is overwhelming. This is about creating a credible acquisition currency. Better to swallow some pride, sell at a generous price and let Altice USA enjoy a happy first few months of trading rather than risk disappointing his new buddies.
To contact the authors of this story:
Leila Abboud in Paris at labboud@bloomberg.net
Chris Hughes in London at chughes89@bloomberg.net
To contact the editor responsible for this story:
James Boxell at jboxell@bloomberg.net
Before it's here, it's on the Bloomberg Terminal.
LEARN MORE