Hung Parliament
Looking Through Britain's Election Chaos
An uneasy equilibrium is holding as a hung parliament looms.
By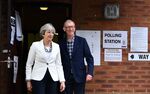 On the face of it, the British election result should be bad news for U.K. financial markets. With no party winning sufficient seats to form a majority government, domestic political chaos is all but assured. Offsetting that, though, is the prospect that the Brexit negotiations may result in a less economically damaging departure than previously expected.
That helps explain why the pound is holding its ground, after taking an initial tumble when exit polls first signaled the likelihood of a hung parliament. It took another downward turn after the BBC reported that Theresa May won't resign as Conservative leader.
The election result leaves the leadership of the country in limbo, with the Conservative Party shy of the number of seats it needs to form a majority government. But it has stoked expectations that whoever ends up in charge will abandon the so-called hard Brexit strategy that May's administration was pursuing.
That, in turn, may limit the economic impact of leaving the European Union. The U.K. is currently the worst-performing member of the bloc, with gross domestic product in the first quarter lagging every one of its peers.
So in the immediate aftermath of the election, the pound finds itself performing a balancing act between the pessimism of a muddy outcome and the optimism of a softer Brexit. It's an uneasy equilibrium; but for now at least, the truce in U.K. financial markets is holding.
To contact the author of this story:
Mark Gilbert in London at magilbert@bloomberg.net
To contact the editor responsible for this story:
Edward Evans at eevans3@bloomberg.net
Before it's here, it's on the Bloomberg Terminal.
LEARN MORE