PRECIOUS LITTLE
No Hidden Gems Here
Chow Tai Fook sales are rising, but on lower-margin gold products.
By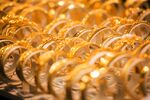 TIFFANY & CO
-1.32
As of 10:21 AM EDT
The world's biggest jeweler must be doing something right.
Shares in Chow Tai Fook Jewellery Group Ltd. are up more than 30 percent over the past six months. Same-store sales, which were on an almost unbroken run of declines for three years, are finally rising in both mainland China and the wealthier enclaves of Hong Kong and Macau. 1 After two years in retreat, net income even grew about 4 percent in the year through March, the company said in annual results Thursday.
At first blush, this looks like a long overdue return to equilibrium. At 22 times blended forward 12-month earnings, Chow Tai Fook's valuation is simply returning to the parity with Tiffany & Co. that prevailed at the time of its 2011 initial public offering.
Those expecting further upward momentum should exercise a little caution, though. Beneath the luxurious glitter, something more basic has been driving Chow Tai Fook's recovery.
Why shouldn't Hong Kong's pre-eminent jeweler get the same valuation as its New York counterpart? Take a look at margins and the reason becomes clear: Chow Tai Fook's have averaged about 28 percent over the past five years, less than half the 60 percent at Tiffany.
That's because more than 50 percent of the Asian company's revenue comes from sales of "gold products" -- necklaces and bracelets that are traditionally given to mark birthdays, weddings and anniversaries in China.
This is a huge market, but a fiercely competitive one that's not all that different from commodity trading. One gold chain is much like another, so there's not a lot of scope for jacking up margins.
Chow Tai Fook's real money is made in what the company calls "gem-set jewelry" -- the more bespoke fashion and fine jewelry pieces in which Tiffany specializes.
As a result, it's a mistake to look at Chow Tai Fook's sales growth on its own. If all the growth is in gold products, the impact on earnings could be surprisingly modest, or even negative. In the 2016 fiscal year, consumers shifted their preference away from gem-set jewelry and toward gold products, pushing gross margin down 0.7 percentage points; this year the fall was a further 0.8 percentage points.
Looked at in those terms, those recent sales results don't look quite so shiny. Gem-set sales in Hong Kong are still deep in the doldrums, falling 17 percent from a year earlier in the March quarter after eight previous quarters of declines. On the mainland, gem-set jewelry is picking up, but only to a modest 5 percent pace. The place where Chow Tai Fook has been posting double-digit sales increases is entirely in the gold products end of the business.
To be sure, low-margin growth is still growth -- and Chow Tai Fook investors have seen precious little of that in recent years. When a retailer's declining sales finally find their level, the comparative growth can arrive with breathtaking speed. There are other reasons for optimism, too: Falling rents in Hong Kong and Macau should be helping margins in other ways, according to Bloomberg Intelligence analyst Catherine Lim.
Still, sentiment toward Chow Tai Fook is so high now that there's little room for error. At Chow Sang Sang Holdings International Ltd. -- a smaller Hong Kong jeweler whose gross margins tend to act as a leading indicator -- the measure dipped sharply in the December half. Sure enough, Chow Tai Fook's adjusted gross margins fell to 28.5 in 2017, their lowest level since 2014.
Chow Tai Fook may be doing better, but it's thanks to a dramatic improvement in a low-margin business, while its real crown jewels are showing few signs of recovery. Unless that picture changes, investors' optimistic expectations should be overdue an assay.
To contact the author of this story:
David Fickling in Sydney at dfickling@bloomberg.net
To contact the editor responsible for this story:
Matthew Brooker at mbrooker1@bloomberg.net
Before it's here, it's on the Bloomberg Terminal.
LEARN MORE