Long-dated bonds
Italy: Unfashionably Late
The country is having to pay the most since 2014 to borrow money.
By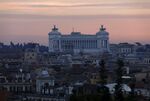 Better late than never? Italy is finally arriving at the bond party that kicked off in the euro zone once French President Emmanuel Macron won his election; the question is whether the nation is paying too much for 30-year money.
France, Belgium and others have already tapped investor demand for long-dated securities. Italy is expected to offer a coupon of about 3.5 percent. At that level, however, Italy's cost of funds is near the highest its been since late 2014.
Investors have already placed orders for more than 22 billion euros ($25 billion) of the new Italian bonds, suggesting a yield 220 basis points more than German debt is attractive.
Italian debt has under-performed its peers since Macron's election. Portugal's 30-year debt, for example, yields just 60 basis points more, a third of the premium prevailing at the beginning of this year.
Italy doesn't even have the market to itself this week. The European Stability Mechanism, the European Union's bailout vehicle, is tapping its existing 1.8 percent bond repayable in 2046 for 1.5 billion euros. Its higher creditworthiness, though, means it will offer investors a yield about 2 percentage points below Italy's. 
So why come for funding now -- unless there is a sense that conditions might be worse if it waits? The European Central Bank's quantitative easing bond-buying program is not going to be around forever. While ECB President Mario Draghi might avoid mentioning tapering after Thursday's monetary policy meeting, the current program is scheduled to end anyway by the end of the year. 
Issuing now suggests Italy's debt managers may be concerned the country will have an early election that would close the funding window. That, in turn, should be a worry for investors -- especially given Italy's most-recent long-dated issue is trading at a discount of about 20 percent to its face value.
To contact the author of this story:
Marcus Ashworth in London at mashworth4@bloomberg.net
To contact the editor responsible for this story:
Mark Gilbert at magilbert@bloomberg.net

Before it's here, it's on the Bloomberg Terminal.
LEARN MORE