Not Different This Time
Don't Buy Valeant's Latest Asset-Sale Hype
Its eye-surgery unit shouldn't fetch the price investors hope.
By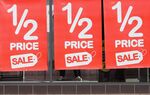 VALEANT PHARMACEUTICALS INTE
+0.16
At Closing, April 25th
It's déjà vu all over again.
Valeant Pharmaceuticals International Inc. is reportedly in talks to sell its eye-surgery business to Carl Zeiss Meditech AG for $2 billion. If that sounds familiar, it's partly because there have been many similar rumors lately involving Valeant. But this case is particularly familiar; Carl Zeiss was said to be one of several firms weighing a bid for this exact asset at this exact price about seven months ago.
That deal never came to fruition, also in keeping with a theme 1 . Investors seem to hope it will pan out this time; Valeant's shares rose as much as 4 percent Tuesday morning. But buying Valeant on asset-sale talk keeps leading to disappointment, and that seems unlikely to change. 
Beyond Valeant's well-documented tendency to talk about more deals than it completes, there are reasons to be skeptical this particular deal gets done, particularly for $2 billion. 
For one, sales of the unit in question have been flat to declining over the period in which they've been broken out globally. Sales have declined year-over-year for the past two quarters. 
A recent comparable deal is Abbott Laboratories' sale of its eye-surgery business last year to Johnson & Johnson for $4.33 billion, or 3.6 times the unit's estimated 2016 revenue of $1.2 billion. Paying $2 billion for Valeant's surgical arm would represent 2.9 times 2016 revenue. 
It makes sense Valeant would have to sell at a discount. Abbott was somewhat lucky to get the price it did -- it got more than it paid in the deals that built its surgery arm, the revenue of which was barely growing. But even $2 billion might be more than a buyer is willing to pay for Valeant's unit.
Many of the company's surgery assets have had four years to depreciate since Valeant acquired them with its 2013 purchase of Bausch & Lomb. The company is incredibly stingy when it comes to R&D; that both contributes to the unit's declining value and reduces the likelihood an acquirer will achieve synergies that could justify a higher purchase price. 
And Valeant -- which is desperate to pay down more than $28 billion in debt and seeing large sales declines in many of its businesses -- is in a uniquely poor negotiating position. Any acquirer is likely to demand a substantive desperation discount. 
Anything Valeant can do to cut its debt will buy more time on the turnaround clock. But the company may need to compromise to get this done, and selling one if its few stable assets at a major discount may not actually be a good thing for the firm's shaky future prospects. Nor will it be universally cheered by investors. 
To contact the author of this story:
Max Nisen in New York at mnisen@bloomberg.net
To contact the editor responsible for this story:
Mark Gongloff at mgongloff1@bloomberg.net
Before it's here, it's on the Bloomberg Terminal.
LEARN MORE