Let's See, Shall We?
Saudis Blowing Smoke
A long way from Atlantic Basin cuts.
By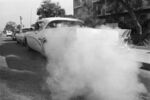 It was a dismal day for OPEC when it met in Vienna to extend its output deal. Despite an agreement to limit supply for another nine months -- a move it had signaled well in advance -- the price of crude fell by around 5 percent.
The one bright moment came when Saudi Energy Minister Khalid Al-Falih announced that his country would cut crude sales to the U.S. Prices rallied briefly, adding as much as 50 cents. But a closer look at his comments reveals they may lack teeth. Unless the Saudis get serious about depriving customers of crude they want to buy, pessimism on OPEC's ability to rebalance the market is warranted.
Here's what he actually said during the press conference after the meeting between the group and its friends on May 25:
"As a result of certain marketing developments, including separating the assets of Motiva and Aramco focusing on the Port Arthur refinery, you will see a marked decline of Saudi Aramco exports into the U.S."
The Motiva assets were a joint venture between Saudi Aramco and Shell that was actually dissolved at the start of May, with Aramco retaining the Port Arthur refinery in Texas and Shell taking the Norco and Convent plants in Louisiana.
The split leaves Shell free to source feedstock for its refineries from anywhere it wishes, but Norco and Convent process very little Saudi crude anyway. U.S. Department of Energy data show that imports by the two plants averaged just 33,000 barrels a day over the year to March, less than 3 percent of total U.S. crude purchases from the kingdom. So changed marketing arrangements there won't do much to dent the flow of Saudi exports to America.
The Port Arthur refinery is a different story. Its imports over the same period averaged 238,000 barrels a day, or 21 percent of all Saudi crude sales to the U.S. However, it is unlikely that Saudi Aramco will switch its diet to other grades given that it's geared to processing its own crude. After all, as Al-Falih also said in that same press conference:
"The U.S. market is a key market for Saudi Aramco...So we cannot, and will not, withdraw completely from the U.S."
So, if the reduced imports of Saudi crude won't hit the three Motiva refineries, where will the cuts come? Aside from Motiva, the biggest importers of Saudi crude are Chevron, Marathon and PBF Energy plants in California, Louisiana and New Jersey respectively. In addition, the EIA lists a further 15 U.S. refineries importing Saudi crude in March -- the most recent month for which data is available.
There is little to suggest that Saudi crude will become less attractive to U.S. refiners. Iraq and Kuwait both raised the official selling prices to American buyers for their crudes relative to competing Saudi grades. That ought to make the kingdom's oil a better buy for U.S. refiners this month. That means that any reduction will have to come from the kingdom turning buyers away.
Bloomberg tanker tracking data shows Saudi crude exports to the U.S. in May at around 840,000 barrels a day. That is a drop of 160,000 barrels from April. Significant? Perhaps, but it only takes them back to where they were in January, the first month of the output deal.
Crude loading during June in Saudi Arabia will arrive off the U.S. coast between mid-July and mid-August. By then, refinery runs will already be at their seasonal peak and attention will be starting to turn towards the fall slowdown, which typically gets under way around the end of July. This may allow the Saudis to claim a seasonal downturn as evidence of cuts.
The Saudis said back in January, when this whole rebalancing process began, that cuts would focus on Atlantic Basin markets -- the U.S. and Europe -- rather than Asia. The data show that didn't happen. Perhaps it will be different this time, as they've made a very public statement on something highly visible. But I'm not holding my breath just yet.
To contact the author of this story:
Julian Lee in London at jlee1627@bloomberg.net
To contact the editor responsible for this story:
Jennifer Ryan at jryan13@bloomberg.net
Before it's here, it's on the Bloomberg Terminal.
LEARN MORE