Space Junk
SoftBank Billionaire Gets Zapped in Space
SoftBank founder learns about dealing with high-yield bondholders.
By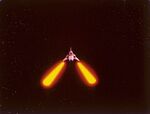 INTELSAT SA
+0.12
At Closing, April 20th
An ambitious plan to bring the internet to the world's poor via satellite has suffered a setback. The February agreement to combine OneWeb, a satellite venture backed by Japanese tech giant SoftBank, with Intelsat SA, failed this week to get the bondholder approval it required. It's a reminder that this deal wasn't all about the vision of Masayoshi Son, SoftBank's founder and leader.
The combination makes some strategic sense on paper. OneWeb is a loss-making startup with a plan to stick satellites into low orbit to cover the world. Teaming up with the more mature Intelsat would give it an instant customer base plus the sales force and regulatory relationships that come with a bigger company.
There's a technological synergy too. The pair use the same spectrum. Combined, OneWeb could grow up fast and be better placed to provide satellite broadband to the many parts of the earth where cables haven't been laid. Driverless cars could navigate through Alaska. Airline passengers could have continuous broadband over the oceans and all altitudes.
But let's not get carried away by the dreams of Masa Son. Intelsat has traditionally favored professional customers over the consumer. And its immediate priorities are financial not strategic. Intelsat has a market value of $358 million and net debt of $14 billion. It generates $1.6 billion of Ebitda. The interest bill last year was $940 million. That's quite a constraint.
OneWeb may be loss-making and its business not yet fully funded. Yet it was able to raise $1.2 billion in equity finance with ease in its last funding round and it has wealthy backers. One of those, SoftBank, was willing to inject equity into a merged "IntelWeb".
The snag is that SoftBank also wanted bondholders to do their bit by swapping into new debt at a discount to par value. That, plus SoftBank's $1.7 billion of equity, would cut debt by $3.6 billion. The incentive for bondholders was that the exchange offer was at a premium to where the debt had been trading, and their continuing debt would be more valuable as a result of being backed by a stronger company.
Yet the bondholders snubbed it, bringing down the whole deal. For big funds with high-yielding debt, reinvestment options aren't plentiful, as Gadfly colleague Lisa Abramowicz has noted. The incentives here weren't good enough to crystalize losses prematurely. 
SoftBank and OneWeb are talking about finding alternative partners. Sure, other satellite companies could bring grown-up company infrastructure to OneWeb. But the technological fit is unlikely to be as good. As for Intelsat, it may just have to go back to the bore of refinancing after refinancing.
The reality is that the agendas of the two companies and their respective financial backers don't really match up here. The junk bond crowd are a different proposition to the equity markets. As Son starts to deploy the $100 billion SoftBank Vision fund, that's a lesson worth heeding.
To contact the author of this story:
Chris Hughes in London at chughes89@bloomberg.net
To contact the editor responsible for this story:
James Boxell at jboxell@bloomberg.net
Before it's here, it's on the Bloomberg Terminal.
LEARN MORE