Constructive Feedback
Evergrande Shorts Face Specter of State
Betting on any Chinese company is fraught, especially one that's a major property developer.
By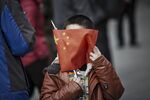 Once again, events have shown that if you're shorting a Chinese company, government-owned or not, you'd better be on guard. As investors in China Evergrande Group are finding out, the specter of the state is never far away.
The Guangzhou-based developer said on Thursday it had raised 39.5 billion yuan ($5.8 billion) from selling a stake in a residential property unit, part of a reorganization ahead of a planned backdoor listing on the mainland. Analysts said the figure exceeded expectations. Having already sold a 13.2 percent interest in Hengda Real Estate earlier this year, that brings the total amount raised to 70 billion yuan.
As Gadfly noted earlier, Evergrande, whose stake in Hengda is now 73.88 percent, can put the money to good use. The company has some pricey perpetual securities, sold to fund a land-buying binge, that can be redeemed. Some 60 percent of Evergrande's post-tax earnings last year were used to pay the interest on the notes. According to Bloomberg Intelligence, Evergrande had a net debt-to-equity ratio of 777 percent at the end of December.
The company's shares, which rallied 22.8 percent on Monday, are up more than 200 percent this year. Chairman Hui Ka Yan has seen his fortune rocket to $19.3 billion, making him China's fifth-richest person.
But spare a thought for the short sellers. Fees to borrow stock in Hong Kong-listed Evergrande for shorting have soared to about 10 percent since January and have doubled since Evergrande began buying back shares in late March, according to Simon Colvin, a London-based analyst at IHS Markit Ltd. That repurchase plan, aimed at boosting valuations ahead of a reverse merger in Shenzhen, coupled with initiation of coverage by Morgan Stanley last month, partly explains the equity surge.
Of the 13 buyers that participated in Evergrande's latest founding round, it's worth noting who injected the most money. Maanshan Maowen Technology Industrial Park Co., a subsidiary controlled by Shum Yip Group Ltd. that is in turn wholly owned by the Shenzhen State Assets Supervision and Administration Commission, paid 5.5 billion yuan for a 2.05 percent stake in Hengda's enlarged equity, making it the single biggest contributor.
The size of its debt burden makes Evergrande a natural magnet for short sellers. But it would seem that large pile of leverage also means one of the nation's biggest home builders can count on state support come crunch time.
To contact the author of this story:
Nisha Gopalan in Hong Kong at ngopalan3@bloomberg.net
To contact the editor responsible for this story:
Katrina Nicholas at knicholas2@bloomberg.net
Before it's here, it's on the Bloomberg Terminal.
LEARN MORE