There Yet?
Dish Investors Are on Ergen's Road to Who Knows Where
They wanted a takeover, but the pay-TV company's billionaire founder seems to have a different vision.
By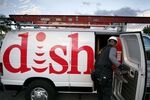 VERIZON COMMUNICATIONS INC
+1.01
At Closing, April 24th
T-MOBILE US INC
+0.29
At Closing, April 24th
Most know Dish Network Corp. for its satellite dishes affixed to the exteriors of millions of U.S. homes. But the $30 billion company is betting its future on something investors can't see: licenses for airwaves used to transmit data between smartphones and other wireless-connected devices.
The strategy sounds good in theory: For better or worse, our days do increasingly revolve around smart devices. However, Charlie Ergen, Dish's billionaire founder and leader, has yet to provide a clear plan for how exactly the pay-TV company will make money from all the spectrum licenses it's purchased over the years. Unlike Verizon Communications Inc., AT&T Inc., T-Mobile US Inc., Sprint Corp. and soon Comcast Corp., Dish doesn't operate a wireless network that can make use of such spectrum. Not yet, at least.
For years, the possibilities around Dish's spectrum -- that is, selling or leasing the airwaves at a premium, or to a lesser extent, building its own network -- have made the stock an intriguing investment and kept Ergen free from having to commit down one path or another. Call it the "what if" premium. But with Dish's main satellite-TV business shrinking, and with wireless carriers making acquisitions and investments for their strategies around new faster 5G networks, Dish risks missing its moment and chance to cash out. 1  
The value of Dish's spectrum holdings may be about $35 billion, according to an estimate by Bloomberg Intelligence -- until the airwaves are put to use or sold, though, that figure is simply fictitious. The "but it has so much spectrum" argument is a far less convincing thesis for a stand-alone Dish when it has the option to realize that value by merging with any number of larger companies -- Verizon, Charter, T-Mobile, etc.
Ergen controls the voting power, and it seems he may be leaning toward not selling the company after all. I say may because I'm not totally convinced of this yet and we know he doesn't like to show his cards. But in a somewhat anticlimactic chapter of the Dish story, the 64-year-old has put forth a vague plan to build a wireless data network that will be introduced by 2020, pushing the denouement investors have been awaiting further down the road. 
This potentially means passing up the chance for a takeover premium or the highly profitable secondary option of leasing its airwaves. Instead, Ergen has a vision to capitalize on the "internet of things," a world of driverless cars, smart appliances and anything that will require wireless communication. There was a report from Satellite Business News that said Amazon.com Inc. is in early-stage talks to be a "foundational" partner for this future Dish network, which neither company has confirmed. But let's hope it's true, because if Dish isn't going to team up with a leading wireless carrier, at least let it do so with a company as powerful as Amazon. 
Through Dish's Sling TV business we've learned that Dish isn't very good at branding and marketing. You've probably heard a lot about TV streaming apps such as DirecTV Now (owned by AT&T) and the new YouTube TV (Google/Alphabet Inc.). Sling is just like those and it's been around longer, but it hasn't lived up to its potential. That should be proof enough that if Dish's wireless strategy is at all consumer-facing, it really shouldn't go it alone. It needs a name like Amazon in order to make a grand entrance and catch on.
Of the few tidbits that Ergen has disseminated to investors, he said at a conference last week that Dish will build its network with or without an "anchor tenant," citing the option to work with multiple parties -- such as insurers, for example, that want to track drivers' habits to determine rates. This would imply more deals with corporations, rather than going head-to-head with the likes of Verizon for subscribers. It all sounds interesting and innovative, which is very Ergen-like, but for investors that have long thought Dish had an exit strategy, this will be a long process with an uncertain time frame for payoff. 
The question remains: Will Dish really transform into a big, stand-alone wireless network operator, or ultimately sell itself? In April I cautioned readers that they'd be wrong to bet against Ergen, even though his actions are sometimes perplexing. While I stand by that, Dish becomes less appealing, at least for now, if a megamerger is off the table.
Verizon recently won a bidding war against AT&T for Straight Path Communications Inc., a 5G spectrum license holder. AT&T, which already bought Dish's closest rival DirecTV, is also acquiring TV-programming giant Time Warner Inc. T-Mobile and Sprint may merge, while Comcast and Charter Communications Inc. have formed an alliance to expand into wireless services. 
To contact the author of this story:
Tara Lachapelle in New York at tlachapelle@bloomberg.net
To contact the editor responsible for this story:
Beth Williams at bewilliams@bloomberg.net
Before it's here, it's on the Bloomberg Terminal.
LEARN MORE