Africa Sale
Barclays Helped by the Curse of Low Volatility
Wall Street may bemoan its absence, but the British bank should give thanks.
By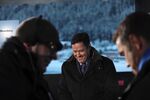 BARCLAYS PLC
+1.30
At Closing, April 20th
BARCLAYS AFRICA GROUP LTD
+30.00
At Closing, April 20th
Wall Street executives aren't usually a gloomy bunch. Recently, though, they have taken to bemoaning the lack of action on financial markets that's depriving their traders of healthy profits.
Just yesterday, JPMorgan's CFO blamed dwindling volatility, low rates and a lack of political shocks for a decline in markets revenue in April and May.
But it's precisely this lack of volatility that gave Barclays Plc a big helping hand when it sold $2.9 billion of shares in its African unit this week. The British bank had initially planned to sell a 22 percent stake but increased the offering to 34 percent, citing strong demand from investors.
The sale came against a backdrop of rising emerging-market equities -- which saw inflows for ten straight weeks through the end of May, according to Bank of America -- and reduced expectations of an imminent rise in U.S. interest rates.
Does that mean Barclays Africa was an easy sell? Not really.
The process of cutting Barclays's stake in the Africa business would have been far easier had other banks or investors been willing and able to take majority control in one go.
And while South Africa's economy is set to grow at a faster pace in 2017 than last year, when it expanded at the slowest rate since 2009, the country has had its fair share of political shocks. Barclays Africa was one of several banking stocks hit when S&P cut the country's credit rating after President Jacob Zuma fired Finance Minister Pravin Gordhan.
But calmer markets and growing investor appetite for bank shares this year have helped Barclays to hit its target of paring its stake in the Africa business to less than 20 percent ahead of schedule.
The latest batch of shares were sold for 132 rand each, a narrow discount to the stock's previous closing price of 139 rand and still higher than the 126-rand price achieved in a previous sale last year.
For Barclays, the benefits are twofold. Firstly, the sale will bolster the bank's balance sheet, lifting the core Tier 1 capital ratio by 73 basis points. That should help to reduce the pressure on CEO Jes Staley to raise capital. Secondly, it will leave the bank focused more sharply on its investment banking operations in New York and London.
Will that be enough to successfully compete against Wall Street's finest, some of whom are perhaps already preparing investors for a more tepid financial performance this summer?
Fixed costs are stubbornly high, while Barclays' first-quarter results showed a below-average performance for its investment bank. And that was in an otherwise healthy quarter for U.S. rivals, who now seem a bit more downbeat on trading performance.
Becalmed markets have helped Barclays exit Africa and deliver on a key plank of its strategy. They may prove less helpful, however, in boosting the performance of its major engine of future growth.
To contact the author of this story:
Lionel Laurent in London at llaurent2@bloomberg.net
To contact the editor responsible for this story:
Edward Evans at eevans3@bloomberg.net
Before it's here, it's on the Bloomberg Terminal.
LEARN MORE