Full Volume
China's SOEs Can Keep the M&A Party Going
Government-backed firms have deep pockets for the right assets.
By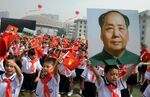 BLACKSTONE GROUP LP/THE
-0.52
At Closing, April 25th
When Chinese acquisitions of overseas companies reached fever pitch last year, one group was conspicuously absent.
Outside of China National Chemical Corp.'s soon-to-be completed $43 billion takeover of Swiss pesticide maker Syngenta AG, few deal architects were state-owned enterprises. Firms like Anbang Insurance Group Co. and HNA Group Co., whose connections aren't so clear cut, dominated the buying.
Now, as Beijing worries about money leaving its borders and imposes various capital controls, there are signs state players are getting in on the act. And when the deals are big, government-backed companies certainly have an edge.
Nowhere is that more apparent than China Investment Corp.'s pursuit of Logicor, the European logistics business of Blackstone Group LP. At about 12 billion euros ($13.4 billion), CIC is the front-runner, people familiar with the matter told Sarah Syed and Sharon Smyth of Bloomberg News, ahead of Temasek Holdings Pte and Mapletree Investments Pte.
Logicor is one of Europe's largest warehouse firms, owning some 13.7 million square meters (147.4 million square feet) of space that is rented to e-commerce firms like Amazon.com Inc. as well as more traditional players such as DHL Worldwide Express.
As online shopping grows, warehouses are becoming hot property, with returns exceeding those from offices and shopping malls. (Also in the works is Beijing-based Hopu Investment Management's offer, as part of a broader group, for Singapore's Global Logistic Properties Ltd., which if successful in beating out other contenders may seal the biggest buyout deal in Asia.)
In Blackstone, which is part owned by CIC, Chinese acquirers have found a great source of assets. The private equity firm has already offloaded 25 percent of Hilton Worldwide Holdings Inc. to HNA, and the Waldorf Astoria and Strategic Hotels and Resorts Inc. to Anbang. Both acquirers have happily snacked on Blackstone's portfolio and managed to avoid the protectionism cloud that led to a part-government-owned fund being rejected last year in its bid for Germany's Aixtron SE.
With capital controls continuing to limit the mainland buying binge, some slowdown in deal flow is inevitable. But investment bankers shopping around trophy assets internationally should remember: China's state-owned firms are here to stay.
To contact the author of this story:
Nisha Gopalan in Hong Kong at ngopalan3@bloomberg.net
To contact the editor responsible for this story:
Katrina Nicholas at knicholas2@bloomberg.net
Before it's here, it's on the Bloomberg Terminal.
LEARN MORE