Dirt Cheap Debt
A Tough Climb for Europe's Towers
Atlantia wouldn't really need to get out of Cellnex in a hurry.
By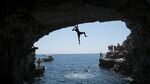 ATLANTIA SPA
-0.07
As of 10:19 AM EDT
ABERTIS INFRAESTRUCTURAS SA
-0.01
As of 10:19 AM EDT
The Americans are coming for Europe's telecom towers. Conquest may not be as easy as it seems.
American Tower Corp is mulling an approach for Cellnex Telecom SA, the Spanish tower group, Bloomberg News reports. Crown Castle International Corp. is another possible bidder for the 4.3 billion-euro ($4.8 billion) company, according to the Expansion newspaper. 
They may spy an opportunity arising from the recent offer by Italian toll-road group Atlantia SpA for Spanish peer Abertis Infraestructuras SA. That's because Abertis holds 34 percent of Cellnex and Spanish takeover rules would require it to bring the stake below 30 percent if control passed to Atlantia. In which case, why not try to buy the whole lot?
Cellnex shares shot up to 19.23 euros on Wednesday amid hopes of an auction. An offer at, say, 20 euros a share would be a respectable 26 percent premium to the stock's three-month average, and 31 percent above its level in April just before the Abertis takeover plan surfaced. That would value Cellnex at 6.2 billion euros including net debt -- a heady 18 times forward Ebitda, although no more than American Towers' valuation.
The snag in a potential swoop to buy the whole Cellnex stake is that it's not obvious that Atlantia would be a forced seller even after taking on massive debts to buy Abertis, which would cost 16.3 billion euros. 
The Italian group has a 15 billion-euro financing plan, including 2 billion euros of bridge facilities tied to disposals already announced. It says its net debt to estimated 2017 Ebitda would touch 4.8 times versus over 5 times for U.S. peers. With the average annual debt cost put at a dirt-cheap 1.9 percent, Atlantia isn't going to be in a hurry to reduce its leverage.
True, this may nevertheless be a good time to sell. Bundling towers and toll roads has questionable logic. Altantia previously owned towers but then sold them to ... Cellnex. As for Abertis, it had already been reducing its Cellnex holding, having owned 100 percent prior to 2015's initial public offering. This all suggests neither company sees this as a core, long-term business.
What's more, it may be easy to get an auction going. Financial as well as strategic buyers are sniffing around this sector -- witness how KKR & Co. funds snapped up a stake in Telxius, Telefonica SA's tower business, after IPO investors turned it down.
Cellnex has been burning cash as it rolls up Europe's fragmented towers industry. The payback from recent acquisitions lies ahead, and the opportunity for more deals is far from exhausted. Atlantia can probably afford to wait for a knock-out price.
To contact the author of this story:
Chris Hughes in London at chughes89@bloomberg.net
To contact the editor responsible for this story:
Jennifer Ryan at jryan13@bloomberg.net
Before it's here, it's on the Bloomberg Terminal.
LEARN MORE