Scripps-Discovery
House Hunters + Hoarding = Must-See TV
The TV network operators need each other as new types of cable packages make competition intense.
By

DISCOVERY INC - A
-0.22
At Closing, April 20th
Chip and Joanna Gaines, are you ready to see your potential new home?
For those not familiar with the Gaineses by now: They're the stars of HGTV's hit show "Fixer Upper," in which the charming Texas couple overhaul old properties to create contestants' dream homes. The HGTV network -- known to be mildly addictive among certain demographics, mostly women -- is owned by Scripps Networks Interactive Inc., an $8.7 billion company based in Knoxville, Tennessee. It also owns Travel Channel and most of Food Network, among others. 1
The time may finally be right for Scripps to join forces with its larger competitor Discovery Communications Inc. and bring the Gaines family and the Discovery channel's Alaskan Bush People under one roof. Discovery, a $15 billion programmer in Silver Spring, Maryland, also owns TLC, Animal Planet and Investigation Discovery. As both companies fight for scale, eyeballs and ad dollars in a changing industry dominated by more powerful players, it only makes sense for them to restart old merger discussions. 
While Scripps's content is more aspirational -- buying a home on "House Hunters," flipping real estate in "Flip or Flop" or cooking like a "Chopped" chef -- Discovery often taps into viewers' taste for the bizarre, with programs such as "Naked and Afraid," "My Cat from Hell," "Finding Bigfoot" and "Hoarding: Buried Alive." But they compliment each other more than it might seem at first blush. 
We're in the early innings of an industry shift toward TV streaming apps that offer so-called skinny bundles. They're meant to be cheaper and more limited than traditional cable packages, which have been losing subscribers. With these new products catching on -- AT&T Inc.'s DirecTV Now and Dish Network Corp.'s Sling TV, for example -- it's important for programmers like Scripps and Discovery to get their networks into the lineups. That hasn't been too difficult so far, in part because these two programmers charge distributors lower fees compared with some other network operators, so it's easier to justify their presence.
But there's concern that these "skinny" bundle packages are becoming too chubby to be sustainable -- Discovery CEO David Zaslav calls them "overstuffed turkeys." More costly sports content is crowding out other stuff, which is potentially why YouTube TV has left out Discovery and Scripps. It's for that reason some programmers are in talks with distributors to create entertainment-only packages for viewers who don't want to pay for sports -- and for networks terrified of being kept out of or dropped from true skinny bundles.
With control over Scripps's popular female-targeted programs, Discovery would have more sway in future negotiations such as these. Even though HGTV has come under ratings pressure recently, its female-skewed audience remains key for advertisers, as women often drive the spending in their households. Discovery's TLC network is popular among women as well, whereas Discovery channel is often the No. 1 for men in the U.S. outside of sports programming. This chart shows the gender split for Scripps's and Discovery's top three networks: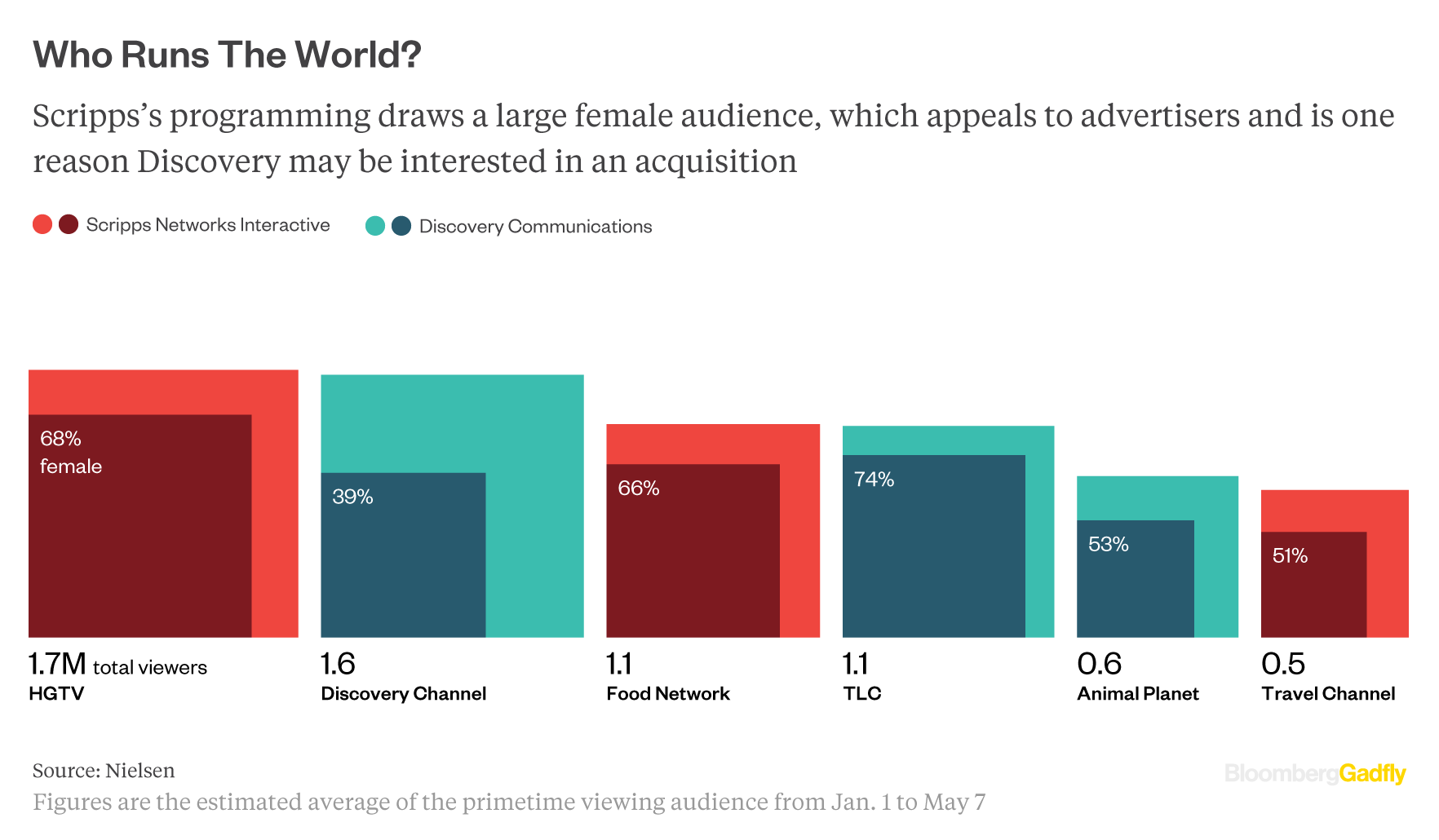 Together, Scripps and Discovery would also have a bigger slice of the ratings pie, which all things being equal means more ad money and more leverage with pay-TV distributors. This becomes crucial if their larger programming rivals continue to hook up with pay-TV providers and wireless carriers. Already AT&T is morphing into a video-entertainment powerhouse with its DirecTV Now app and pending takeover of Time Warner Inc., which owns networks such as CNN, TBS and HBO. This has ignited speculation that CBS Corp. or Walt Disney Co. could find megamerger partners next. Meanwhile, Charter Communications Inc. and NBCUniversal's parent Comcast Corp. are also plotting a way to take hold of the future of mobile video.
Scripps and Discovery are just the little guys and by merging they'd gain a little bit of a leg up:
For Scripps, a merger would speed up its ability to bring its content to other countries, which presents a big growth opportunity. In theory, its reality show formats around real estate and cooking should be adaptable to foreign cities and cultures, but Discovery can make this a lot easier since it already has a big footprint abroad: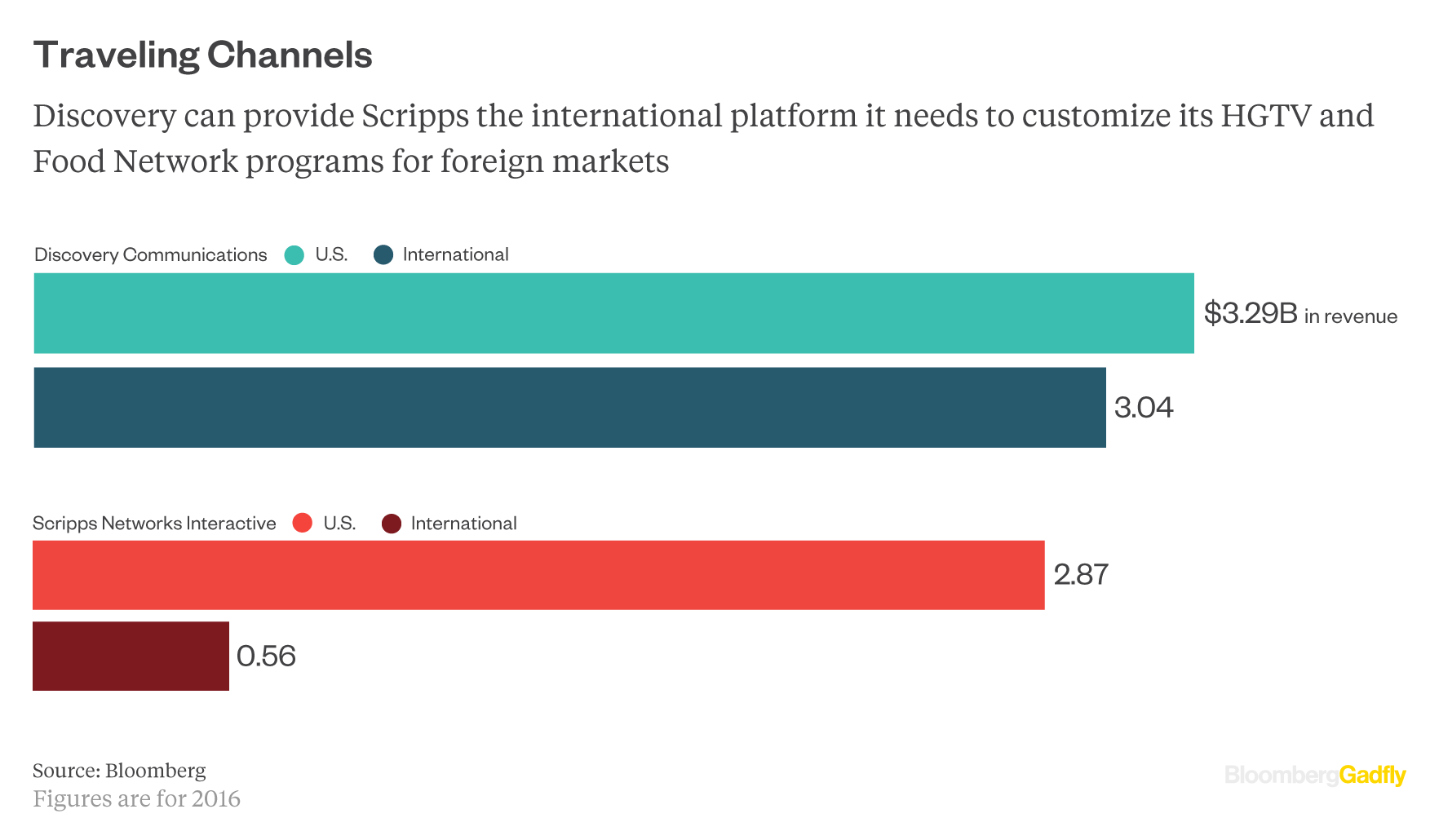 Most importantly, the math works: Let's say Discovery were to pay a 20 percent premium for Scripps -- or around $80 a share -- half with cash and half with its own stock. If it were able to wring out $200 million of synergies, the transaction would boost earnings by 10 percent next year, according to data compiled by Bloomberg. And it would be accretive even without cost cutting. Investors would tune in for that. 
Deal talks in the past between these two didn't work out, but it seems like a good time to try again. Will they flip, or flop? 
--Cedric Sam contributed graphics.
To contact the author of this story:
Tara Lachapelle in New York at tlachapelle@bloomberg.net
To contact the editor responsible for this story:
Beth Williams at bewilliams@bloomberg.net
Before it's here, it's on the Bloomberg Terminal.
LEARN MORE