Stamina Required
Evergrande's Long Path to Debt Redemption
The developer's planned mainland China listing could be delayed, or there may be a drop in home-buyer demand.
By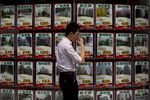 MORGAN STANLEY
+1.30
As of 11:52 AM EDT
Having a net debt-to-equity ratio of 237 percent doesn't sound too crash hot, but it's progress in Morgan Stanley's books.
The New York-based investment bank initiated coverage of China Evergrande Group on Tuesday, with an overweight recommendation amid expectations the developer can bring that metric down from 432 percent 1 at the end of 2016 by using money from strategic investors to redeem its perpetual capital securities.
Some of the funds that Evergrande is using to pay back its perpetual debentures have come from selling a stake of about 13 percent in Hengda Real Estate Group Co., a vehicle that houses Evergrande's property assets 2 and that it plans to list in Shenzhen via a reverse merger. Morgan Stanley estimates the recent stake sale plus another introduction of strategic investors will net between 60 billion yuan ($8.7 billion) and 70 billion yuan in total.
Redeeming the notes makes sense, considering Evergrande used 60 percent of its post-tax earnings last year to pay the interest on them. And shareholders are applauding, sending stock in the Guangzhou-based group up 17 percent on Wednesday in Hong Kong and a further 4.6 percent Thursday to HK$12.20, exceeding Morgan Stanley's HK$12 price target.
It's bad news for investors who were shorting the company, but good news for Evergrande's plans to achieve a higher valuation for Hengda. Regulators, wary of the large number of Chinese firms that have delisted overseas to call a local bourse home, now insist valuations domestically match those abroad.
But it doesn't mean the world's most indebted developer is out of the woods just yet.
Bondholders are taking a distinctly dimmer view of the situation for one. While purchasers of the company's 8.25 percent notes due 2022, sold at par in March, are sitting on a 4.9 percent return, the yield to next month's call on Evergrande's $1.5 billion of 2018 bonds has soared to 19.4 percent.
The sovereign downgrade by Moody's Investors Service on Wednesday will also dent the appeal of Chinese corporate securities.
The other big challenge Evergrande faces is home-buyer demand.
Among real estate companies in China, Evergrande has been one of the most aggressive acquirers of land, using proceeds from its perpetual capital securities. If Beijing's cooling measures begin to bite harder, Evergrande may find itself sitting on plenty of property with scant interest from customers.
A mainland listing would be a useful piggy bank to tap should that happen, however it still needs approval from the Shenzhen Real Estate Board and the China Securities Regulatory Commission.
Morgan Stanley may be cautiously optimistic, but many risks remain.
Gearing calculations vary depending on whether perpetual bonds are counted as debt, as Morgan Stanley does, or whether minority interests are included in equity. Bloomberg Intelligence puts Evergrande's gearing last year at a much higher 777 percent.
To contact the author of this story:
Nisha Gopalan in Hong Kong at ngopalan3@bloomberg.net
To contact the editor responsible for this story:
Katrina Nicholas at knicholas2@bloomberg.net
Before it's here, it's on the Bloomberg Terminal.
LEARN MORE