Cheer Up, Angela
The Euro's Rally Has Further to Run
Historic trends look favorable for the G10's best-performing currency.
By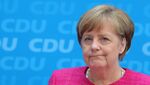 "The euro is too weak," Angela Merkel said on Monday. The foreign exchange market is doing its best to make the German Chancellor happier with her currency.
The euro's 7 percent gain this year means it's the best-performing currency against the dollar among the Group of 10 industrialized nations. History suggests its advance may carry on.
The good economic news is piling up in the euro zone. Figures released Tuesday by the Ifo institute showed business confidence in Germany, the bloc's biggest economy, climbed to its highest level since 1991 this month, outpacing economists' expectations for a fourth consecutive month.
A purchasing managers index for the euro region in May, combined with individual PMI surveys for Germany and France, reinforces the impression that the European Central Bank's efforts to stimulate the economy are finally paying off.
Indeed, the size of the ECB's balance sheet has surpassed that of the Federal Reserve, reaching $4.55 trillion compared with the Fed's $4.47 trillion. And while the Fed is expected to begin tapering its assets in the coming months, a benign inflation outlook in the euro zone means the ECB will continue to add to its quantitative easing purchases for the rest of the year.
The euro started the year at its weakest level against the dollar since 2003. Its rally so far has taken it past its value at this point on the calendar both last year and in 2015. The trajectory of its upswing is impressive; but still leaves it behind the annual average of a bit more than $1.30 that it enjoyed in both 2013 and 2014.
There was a time not so long ago when (yet another) failure to reach an agreement on Greece, as happened after eight hours of talks yesterday, would have given investors reason to doubt the euro's continued existence and sell the currency. Not these days. In January, economists expected the euro zone economy to grow by 1.4 percent this year; now, they're predicting 1.7 percent.
To be sure, the feedback loop whereby a stronger euro crimps exports from the bloc may kick in at some point. But the simple truth is that investors typically favor the currencies of regions that have an improving economic outlook -- something the euro is currently basking in.
To contact the author of this story:
Mark Gilbert in London at magilbert@bloomberg.net
To contact the editor responsible for this story:
James Boxell at jboxell@bloomberg.net
Before it's here, it's on the Bloomberg Terminal.
LEARN MORE