The task of feeding China's 1.4 billion people is transforming the global food industry.
In the effort to keep up with rising demand, domestic farms have been saturated with fertilizers and pesticides, while Chinese companies have bought arable land on every inhabited continent. In tandem with a Bloomberg News series on the world's second green revolution, Gadfly takes a look at how China's changing diet is reshaping global trade in unexpected ways.
1. Competitive Eating
When China joined the World Trade Organization in 2001, the value of its meat imports was just 15 percent of those in the U.S. Last year, China's meat imports overtook those destined for America. 
That's been driven by surging demand for beef, pork and offal: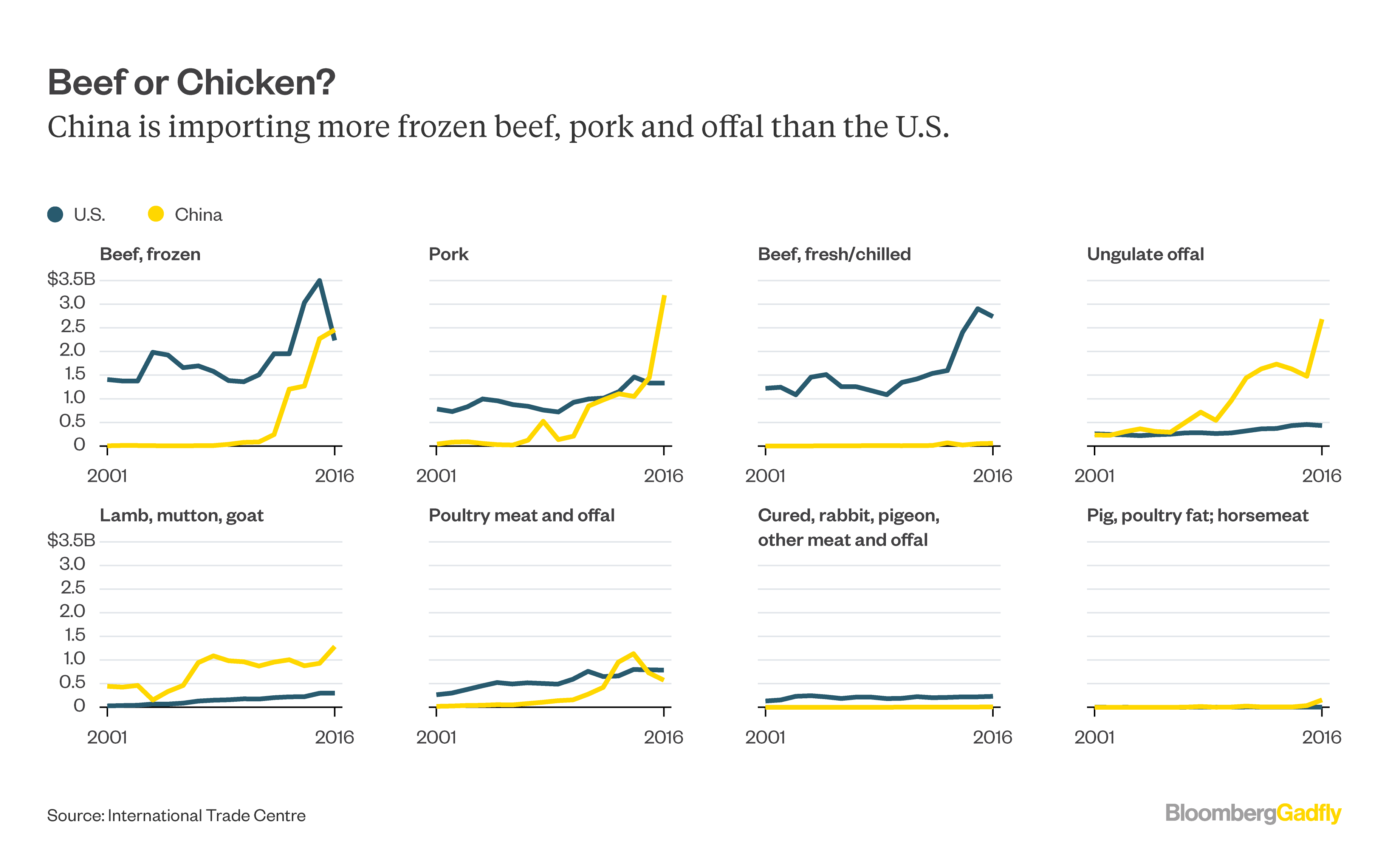 2. What's the Beef?
Judging by the prices people are prepared to pay, Chinese tastes are growing more Westernized. Beef -- once so rare that one 18th-century recipe book grouped it with exotica like palm civet and water deer -- has risen in cost by about 40 percent over the past five years.
While pork, a more classic Chinese staple, has also gained, traditional foods like duck and carp have been weaker -- prices for the latter even fell over the period.
That might in part be to do with land constraints limiting supply. Farming cattle requires large tracts of country, whereas pigs, poultry and fish can be raised at much higher densities. Between 2008 and 2013, China's indigenous production of pigs, poultry and freshwater fish rose between 17 percent and 22 percent, according to the Food and Agriculture Organization. Beef was up just 9 percent.
3. How Offal
Chinese tastes aren't coinciding with the rest of the world in every aspect. Offal amounts to just 3.6 percent of U.S. meat imports, according to the International Trade Centre, but it's about a quarter of the total in China.
The U.S. and Germany are particularly big suppliers: About 70 percent of the value of U.S. meat imports into China, and 35 percent of the value of German imports, consist of the offal of ungulate mammals such as cattle, pigs, sheep and goats.
4. Mystery Meat
If you believe the numbers, Hong Kong is one of the most meat-crazed societies on earth. Beef consumption in 2016 came in at 53.2 kilograms per head -- roughly the equivalent of eating two Big Macs a day, 365 days a year.
The craze appears to have arrived and vanished with the ferocity of a zombie apocalypse. From 2009 to 2014, Hong Kongers' beef consumption jumped fourfold to as much as 92 kilograms a head, before slumping 42 percent over the past two years.
Such numbers don't only put the territory ahead of other ethnic-Chinese societies in the region, such as Taiwan, Singapore and China -- they even handily outstrip Australia, a country built in part on ranching.
A better explanation for this strange behavior, rather than genuine consumption by Hong Kongers, is smuggling across the border. A gray market large enough to distort data for Hong Kong (population: 7.3 million) would barely make a ripple among China's 1.4 billion-strong population.
One reason to risk the wrath of customs officials would be to circumvent the domestic shortages that have driven Chinese beef prices so high. There's also the daigou issue: Mainland Chinese consumers tend to prefer imported foreign goods because of their perceived higher quality. Hong Kongers' consumption of packaged baby food comes to a suspiciously high $396 a head, versus $28.20 in Singapore and $21.50 in the U.S.
5. Sweet Tooth
China imposes harsh restrictions on sugar imports to protect the domestic industry, with the nation's Ministry of Commerce on Monday levying an additional 45 percent duty on top of an existing 50 percent tariff.
That helps explain prices on domestic commodity markets that run well ahead of those on global markets, but it's not been enough to stop a growing appetite for sweet stuff.
While sugar consumption in China was 12.7 kilograms per head in 2016, according to Bloomberg Intelligence, compared to 21.5 kilograms in India and 52 kilograms in Australia, it's grown by far the fastest of the three countries.
Read the Bloomberg News series:
Farming the World: China's Epic Race to Avoid a Food Crisis
China Spins a Global Food Web From Mozambique to Missouri
This column does not necessarily reflect the opinion of Bloomberg LP and its owners.
To contact the authors of this story:
David Fickling in Sydney at dfickling@bloomberg.net
Elaine He in London at ehe36@bloomberg.net
To contact the editor responsible for this story:
Katrina Nicholas at knicholas2@bloomberg.net