Double Loop
SoftBank's Fund Gets a Six-Letter Word
Shareholders at least have some clearer idea of what the vision is now.
By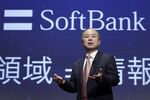 SOFTBANK GROUP CORP
+60.00
At Closing, April 20th
Three words, and ninety-three billion dollars.
Despite long-discussed plans to set up the mother of all venture capital funds, only two of the words in SoftBank Vision Fund's moniker had been spelled out until now.
With Masayoshi Son as its investment monarch, clearly SoftBank Group Corp.'s identity was writ large, even though his publicly listed company will only hold a minority stake.
No matter, Masa is about to embark on a fantastic journey and there were always going to be enough dreamers willing to pony up for a ticket to ride; $1 billion for the cheap seats, at least $15 billion to fly sovereign class.
At a figure equivalent to almost 70 percent of venture capital funding globally last year, it's actually the last word --  fund -- that deserves all caps. 
As for vision, well, that part had been missing since Masa announced the project back in October. Sure, we all knew he had lofty plans, plenty of chutzpah, and a gift of the gab. As in:
"Technology has the potential to address the biggest challenges and risks facing humanity today ...SoftBank has long made bold investments in transformative technologies and supported disruptive entrepreneurs."
But words and dreams don't equal vision. That changed over the weekend when SoftBank announced the fund's first closing.
I've been critical before of the blurred lines and trickle-down venturenomics that characterize this project. Now it's time for me to give SoftBank a bit of kudos for making the situation more coherent.
The boundary between SBG and SVF has come into focus, although it's so fine you need to squint. The fund's general partner (aka, manager) is a wholly owned unit of SoftBank, so too are its investment advisers. And with $93 billion to spend, the fund has the ability to take some of SoftBank's recent investments off its hands, including Guardant Health Inc., Intelsat SA, and Nvidia Corp. The first such transfer will be 24.99 percent of ARM Holdings Plc, which SoftBank can count toward its own $28 billion obligation to the fund.
As for SoftBank: "SBG expects that the fund will be consolidated by SBG for accounting purposes. Therefore, the results of operations, assets and liabilities of the fund will be included in SBG's consolidated financial statements."
That means that whatever roller coaster the fund will be riding, SoftBank investors will be riding it too -- driven by an engine that's fueled by other people's money.
Now that Masa has clarified his vision, SoftBank shareholders can at least go in with their eyes wide shut.
To contact the author of this story:
Tim Culpan in Taipei at tculpan1@bloomberg.net
To contact the editor responsible for this story:
Katrina Nicholas at knicholas2@bloomberg.net
Before it's here, it's on the Bloomberg Terminal.
LEARN MORE