Wallflowers
Power Producers Would Like You to Take Them Home
All this deal talk feels bullish, but suggests a lack of optimism.
By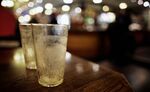 VISTRA ENERGY CORP
-0.24
At Closing, April 20st
NRG ENERGY INC
-0.32
At Closing, April 20st
The merchant power sector right now has all the feverish amour of closing time at a club. Both Calpine Corp. and Dynegy Inc. are said to be actively courting potential partners, which has sparked big rallies in the two stocks:
Amid the speculation about who will get with whom, it's also worth standing back and asking what all this sudden hooking-up signifies.
In one obvious sense, as seen in that chart, it is bullish. It has been clear for a while that merchant power plants -- those that trade in wholesale electricity markets rather than provide power as part of a regulated utility -- have been fetching higher prices in the M&A market than the multiples they garner in the public market. If a company or private-equity firm sees more value in the assets, then maybe it's a signal that ordinary investors should, too.
The fly in this particular batch of ointment, though, concerns price. Calpine now trades at about $13.60 a share. Analysts have a consensus price target on the stock of $14.64, according to data compiled by Bloomberg, though a couple range as high as $20. For Dynegy, now at about $9.20, the consensus average is $11.36, with targets topping out at $15.
Let's put those numbers in historical context. First, Calpine:
And now Dynegy:
The sense of bullishness dissipates somewhat with the extra context. Take Dynegy. Only last October, analysts at Morgan Stanley were speculating the stock could fetch $25 in a leveraged buyout (I disagreed). In a new report published on Monday, the analysts suggested someone might buy Dynegy for maybe $14 or $15 -- still a premium to the current price, obviously, but you can see how things have gone south in a matter of months.
Fellow merchant generator Vistra Energy Corp. is now spoken of as the likely suitor, though a full takeover would risk one of its own strengths, namely a strong balance sheet. Consider: If Vistra paid $15 a share for Dynegy, then that would value the target's equity at $1.97 billion, less than a third of Vistra's own market cap. Factor in debt, though, and Vistra would technically be buying a company bigger than itself:
Turning to Calpine, I argued here that an LBO is feasible, but on my calculus the numbers start to look less so once the price starts moving far north of $15 a share.
The wider point is this: If these companies are seriously contemplating selling themselves now after such big declines in their stock prices, it doesn't suggest huge optimism about the future in their current form.
Consider Calpine again. Only two years ago, this company was actually buying back its own stock. Indeed, between 2012 and 2015, it repurchased $2.7 billion worth at an average price of $20 and change, based on SEC filings. Yet now, the range of street estimates suggest a takeout done at a price in the high teens might be viewed as a win.
Fellow merchant generator NRG Energy Inc. isn't spoken of as a takeover target (not yet anyway) but is currently being overhauled under the watchful eye of activist investors, which has sparked a rally in that beaten-down stock, too.
The impression left is that of a drifting sector with a largely non-committal set of shareholders. Suspecting the music is fading, it is now casting around for a welcoming embrace.
To contact the author of this story:
Liam Denning in New York at ldenning1@bloomberg.net
To contact the editor responsible for this story:
Mark Gongloff at mgongloff1@bloomberg.net
Before it's here, it's on the Bloomberg Terminal.
LEARN MORE