That Sinking Feeling
Awash in Liquidity, Hong Kong Makes Splashing Sounds
It'll take more than tweaking mortgage rules to bring property prices down.
By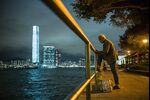 Property prices in Hong Kong are looking increasingly precarious. But while the central bank's squeeze on lenders is to be applauded, it doesn't mean real estate will become more affordable any time soon.
The Hong Kong Monetary Authority raised the risk-weight floor for banks for new mortgages from 15 percent to 25 percent over the weekend. That's significant, considering home credit as a percentage of the city's gross domestic product is 47 percent.
According to Morgan Stanley, it could mean a decline of at least 15 percentage points in banks' return on equity for all incremental mortgages from 35 percent to 20 percent. Enough to give some of the world's most lucrative lenders cause for pause.
Borrowers will also feel some pain. Under the new rules, second-time home buyers purchasing a property valued at HK$10 million ($1.3 million) or above can only borrow up to 40 percent of its value, down from 50 percent previously. For real estate under HK$10 million, the loan-to-value requirements have been cut to 50 percent, from 60 percent.
In addition, debt servicing limits will be trimmed by 10 percentage points for people whose income is derived mainly from outside of Hong Kong. In other words, foreigners will have their monthly mortgage payments capped at 40 percent of their income, versus 50 percent for locals.
The moves came a week after the HKMA went after developers via the banks, placing restrictions on borrowing for construction and buying land. That will impact mainland Chinese firms the most, because they tend to have higher debt levels than their Hong Kong counterparts. It should also dissuade developers from acting as lenders by topping up bank mortgages with loans from finance companies they own.
The problem is, Hong Kong is awash in liquidity. Banks haven't even passed on the interest rate rises made by the U.S. Federal Reserve yet. Two-thirds of all residential stock in Hong Kong is mortgage free, and many first-time home buyers are millennials whose parents are chipping in. Most of the recent tightening measures have been aimed at foreigners or second-time home buyers. Combined, that group made up only 11 percent of purchasers in the first four months of 2017, according to Morgan Stanley analyst Praveen Choudhary.
Banks will inevitably become less aggressive, but they're still sitting on plenty of deposits and mortgage rates are comparatively low. Ultimately, there's just too much demand for housing in Hong Kong.
It will take a significant increase in supply, or interest rates, for that liquidity to drain. The HKMA making a lot of splashing sounds won't do it.
To contact the author of this story:
Nisha Gopalan in Hong Kong at ngopalan3@bloomberg.net
To contact the editor responsible for this story:
Katrina Nicholas at knicholas2@bloomberg.net
Before it's here, it's on the Bloomberg Terminal.
LEARN MORE